BY DOMINIQUE ANID/FOOD HERITAGE FOUNDATION
Serves 4 | Prep/cooking 20 mins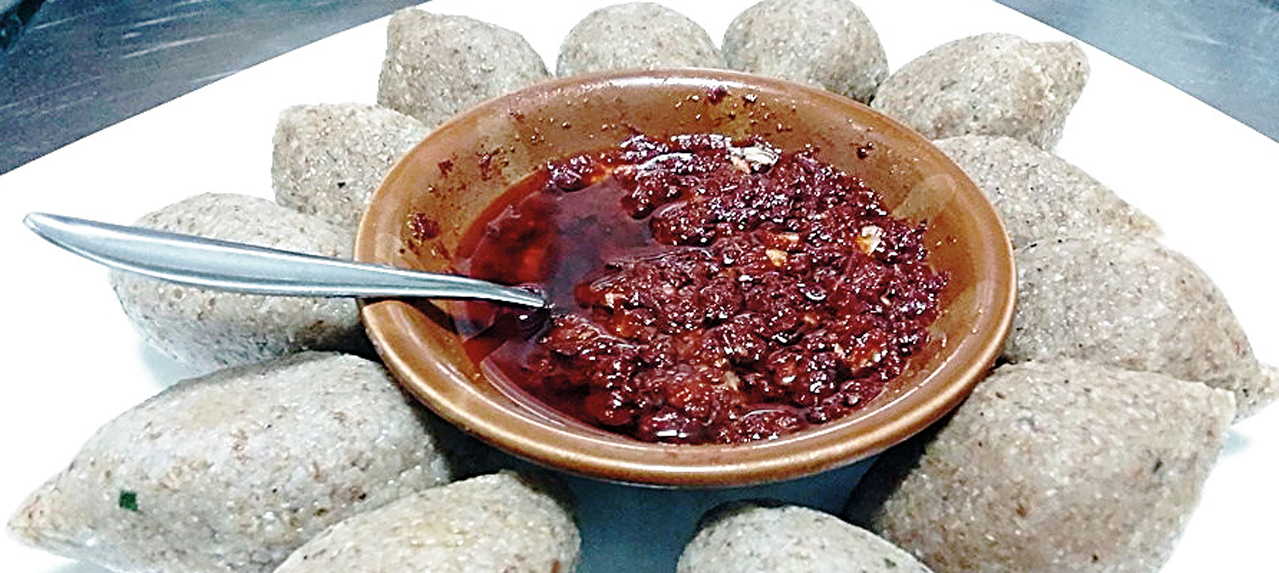 For the dough
• 1 cup fine burgul
• ¾ cup semolina
• 1 tsp ground hot chili
• Salt
• Water
For the spicy dip
(50 calories/teaspoon)
• 1 tbsp hot chili paste
• ¼ cup extra virgin olive oil
• 4 garlic cloves, minced
• Salt
• 1 tsp cumin
For the stuffing
• 1 cup Swiss chard leaves, finely chopped
• 1 small onion, finely chopped
• 1 tsp tomato paste
• ½ tsp hot chili paste
• 1 tsp vegetable oil
• 1 tsp pepper
• Salt
• Cumin
1. For the dough, in a large bowl, mix the burgul, semolina, ground hot chili and salt with 1 cup of water.
Knead well and put aside.
2. For the stuffing, in a saucepan, add the chopped onions to the vegetable oil and let simmer on low heat for 10 minutes. Add the tomato and hot chili paste, the cumin, pepper and the chopped Swiss chard and stir while cooking.
3. For the kebbeh, form balls the size of a golf ball. Hold the kebbeh in one hand and with the index of your other hand make a whole in the ball.
4. Widen the hole by turning the kebbeh and pressing its inside walls gently against your palm. Make sure the kebbeh is uniformly thin. Keep your hands moist with cold water as you work to avoid the kebbeh from sticking to your hands and to give it a smooth finish.
5. Fill the kebbeh with the stuffing and close it. Make an oval shape with two pointed ends. To cook the kebbeh, in a large cooking pot, add water with salt and bring to boil.
6. When the water starts boiling, add in the kebbeh balls. When the kebbeh is well cooked, it floats to the surface. To make the dip, mix the hot chili paste, minced garlic, salt, cumin and olive oil. Serve the kebbeh with the sauce on the side.