GALETTE WITH CRUNCHY VEGETABLES AND CAVIAR
Serves 4 | Prep/cooking 30 mins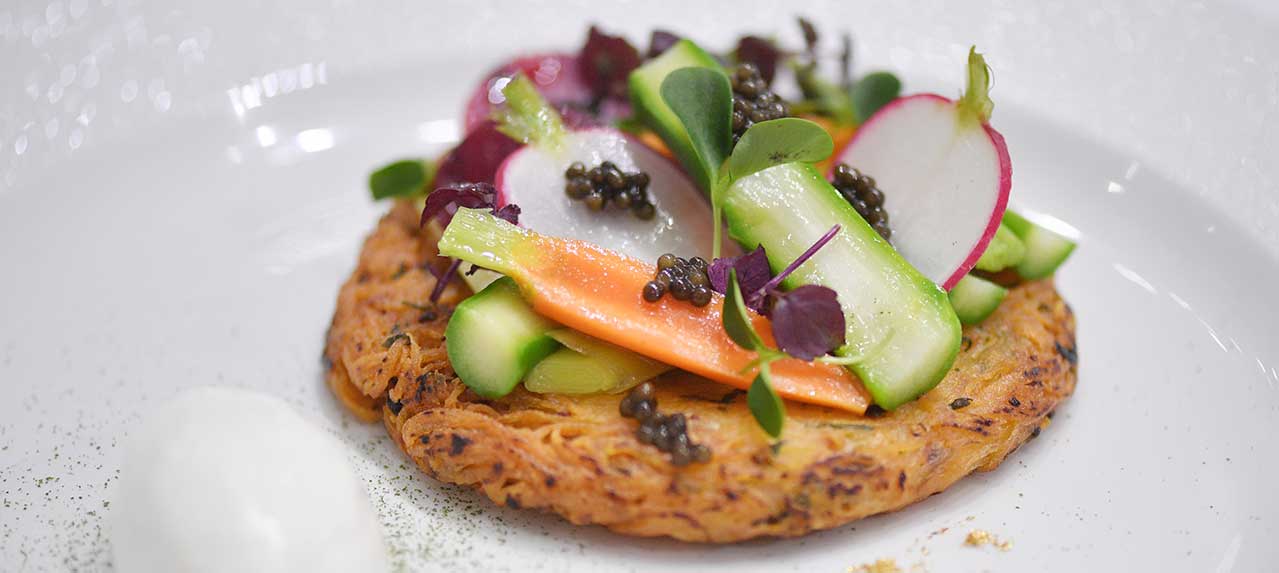 600g Agria Potatoes
2 Eggs
10g Persil
1pc Shallot
4g Shopped garlic
9pcs Green Asparagus
2pcs Radish
½ Beetroot
½ Celery Branch
8pcs Mini-Carrots
4pcs Mini-Tomatoes
4pcs Mini-Leeks
15L Cream
10g Horseradish
20g Caviar
1. Peel and chop the shallot, clean and chisel parsley.
2. Squeeze the Agria, add chopped shallot and parsley, garlic ax, eggs, salt and pepper. Mix well.
3. Start cooking, put some olive oil, and add some butter.
4. Green asparagus, celery branch, mini leeks and baby carrots will be blanched in boiling water and then cooled in ice water.
5. Radishes and red beets will be sized to the mandolin.
6. Cherry tomatoes simply cut in 2 keeping the peduncle on one of the 2 faces.
7. Whip the cream to the robot, once mounted add the horseradish and season with salt.
8. Finish the pancakes in a fryer for a better crispness.
9. Season vegetables with argan oil.
10. Drain the patties and seasoning them, then arrange the vegetables harmoniously on it, put some caviar on the vegetables.
11. Place the Galette on a plate and make a nice horseradish cream quenelle next to it.