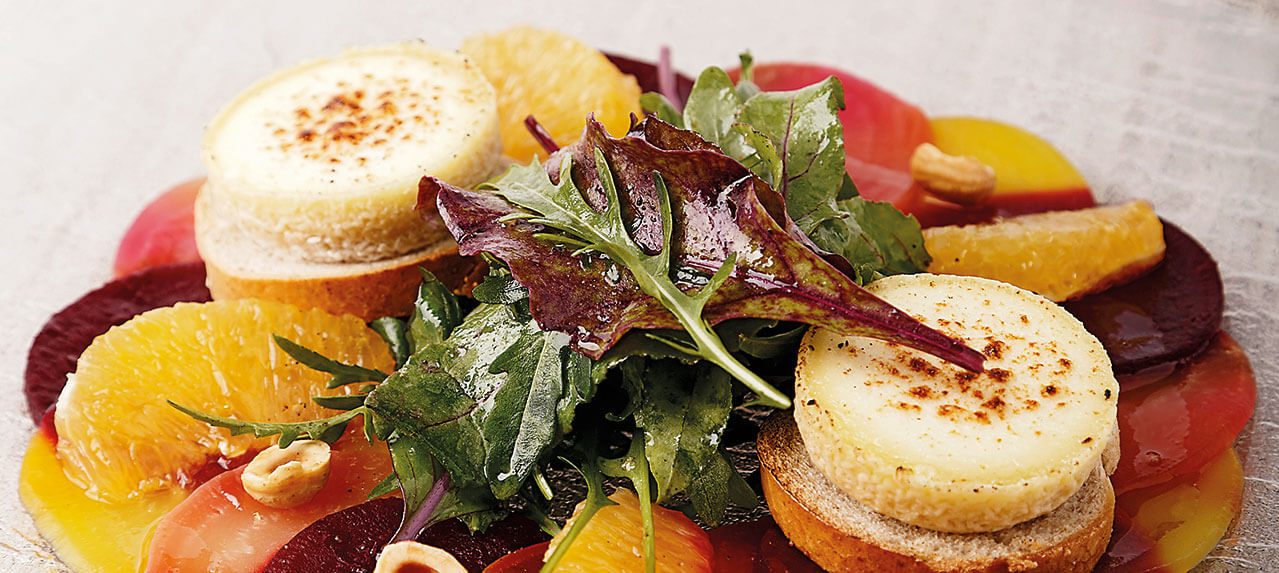 4 pcs of 256g Crottin goat cheese
480g red beetroot
480g yellow beetroot
480g candy strip beetroot
8 pcs sliced round baguette
60g sugar with boiling water to cook the beetroot
Dressing
30ml hazelnut oil
20ml Extra Virgin olive oil
15ml raspberry vinegar
6g honey
Pinch of salt
Pinch of black pepper
Garnish
60g toasted hazelnuts
120g orange segments (4 pcs each)
160g wild or baby rocket
Pinch of salt
Pinch of black pepper
1. Cook the beetroot by boiling it with the sugar for one hour or until tender.
2. Clean the beetroot then slice in circle with sharp knife or on slicer machine at 2.5cm thickness.
3. Start to arrange the beetroot in the serving plates.
4. Mix the sauce ingredients with a pinch of salt and freshly ground pepper.
5. Cut the toasted hazelnuts in half. With a burner, grill the Crottin goat cheese until golden and put in the oven for few minutes.
6. Put the cheese on the toasted baguette slices.
7. Dress the rocket with the sauce and arrange in the middle of the plates.
8. Add the segments of orange and the toasted hazelnuts.
9. At the end, add the Crottin goat cheese.
10. Sprinkle the beetroot with a little of the dressing and the fresh black pepper.