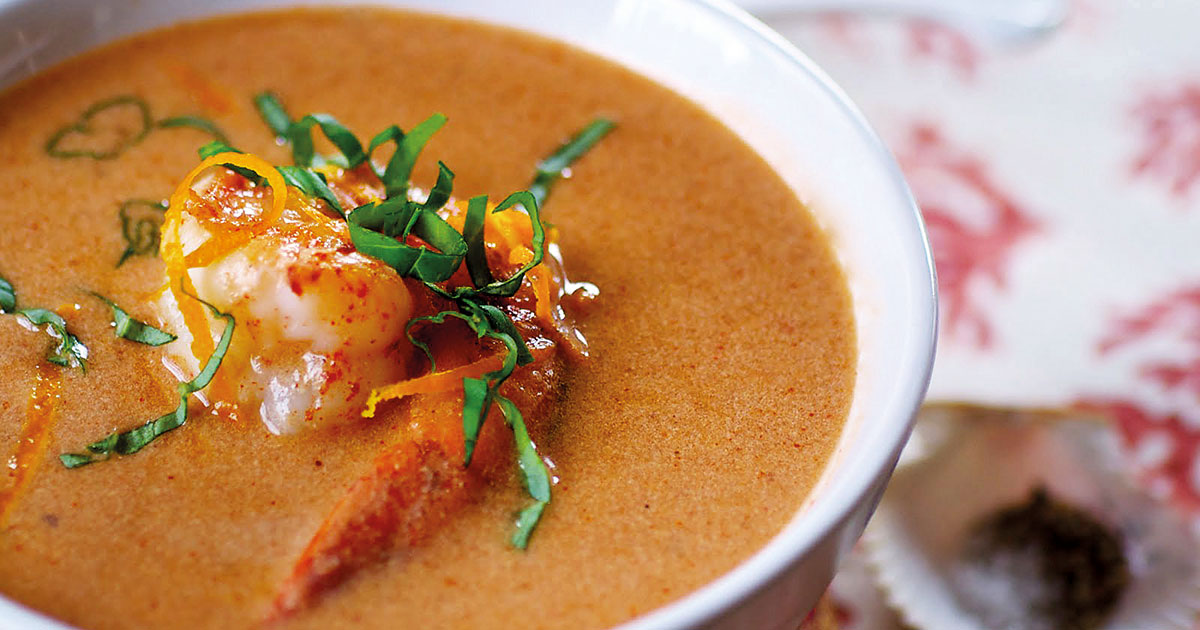 • 3kg tiger prawns
• 1.5 kg tomatoes, chopped
• 2 red onions, coarsely chopped
• 1 cup celery, chopped
• 1 cup leeks, chopped
• 3 tbsp tomato paste
• 5 garlic cloves, whole
• 100g butter
• ½ cup olive oil
• 1 tbsp salt (or to taste)
• 1 tsp black peppercorns
• 1½ to 3 tbsp flour (depending on desired thickness of bisque)
• 1 tbsp HP sauce
• 1 bottle dry white wine
• ½ cup cognac
• 1 cup cooking cream
1. Remove gelatin cheeks of tiger prawns and discard (removing these will enable you to debody shrimp in a much swifter manner).
2. Separate tiger prawns' bodies from their heads and use them for another recipe of your choice. Keep tiger prawn heads to use in preparation of the bisque.
3. Heat olive oil and butter in a heavy, deep saucepan until oil is hot (a heavy saucepan will allow the heat to disperse into the preparation in a slower manner).
4. Add celery, leeks and red onions until they start to ripen in color. Add garlic cloves and toss with wooden spoon. Add the tomatoes and toss with the mixture.
5. Dissolve tomato paste. Add the peppercorns. Add the tiger prawn heads and mix them into the preparation.
6. Pour a full bottle of dry white wine over the preparation and bring to a slow boil (do not use a white "cooking" wine. A good dry white wine will give the bisque the desired taste).
7. Let it simmer until ingredients and tiger prawn heads have wilted and become soft. Slowly add the flour and mix briskly until the constitution is thickened yet still soupy.
8. Put into a food separating mill or moulin and purée the mixture into a bowl (while a food mill will give you a good flavor, it will not give you the desired texture. It is essential to use a metal colander funnel cone-shaped strainer or
china cap or chinois, but more importantly, that the strainer comes with a wooden pestle).
9. Pour mixture in bowl through the metal colander and use the wooden pestle to turn the mixture circumferentially in order to let the liquid through the strainer. The bisque texture is now optimum.
10. To ready for serving, simmer mixture on low heat, then add HP sauce and cognac. Taste your bisque. If it needs more salt, add to taste. Fold in the cooking cream and turn heat off.