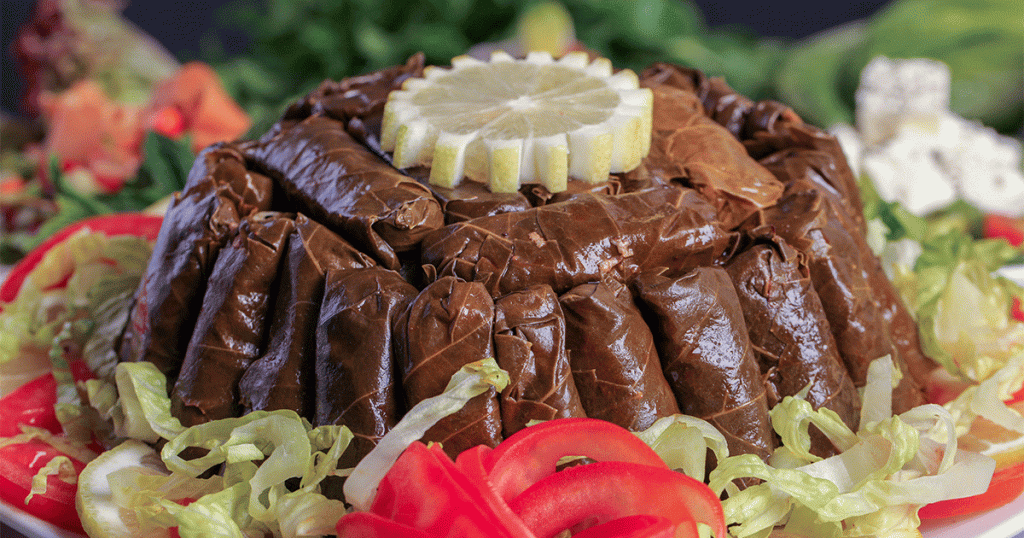 Grape leaves (32 oz. Jar if store-bought)
900g  beef
2 1/4 cups jasmine rice (rinsed a few times until the white surface starch at top stops reappearing, not soaked)
1 1/3 tsp. salt
1/2 tsp. cinnamon
2 tbsp. tomato paste
One potato, julienned
Olive oil, for drizzling
Cover the bottom of a pot with sliced potato.
Mix together the above listed hashweh ingredients.
Rinse grape leaves and carefully cut off the stems.
Begin to stuff and roll the leaves: Lay the leaves with the bottom towards you. Add about a tbsp. with the hashweh slightly above where the stem was, the amount depends on how big the leaves are, and then fold bottom over the hashweh, then fold the sides in, and  continue to roll the grape leave upwards, then tuck the top over. Don't fold too tight, it could prevent the rice from cooking properly.
When all warak are in the pot, add a pinch of salt and olive oil.
Add a plate upside down over the grape leaves.
Boil water in a kettle. Add the pot over high heat. Add the boiled water up to the plate (just cover the plate). When boiling, lower the heat so it's just simmering. Cook until the water is absorbed (check on it after 45 min).Set aside to rest for 5 minutes.