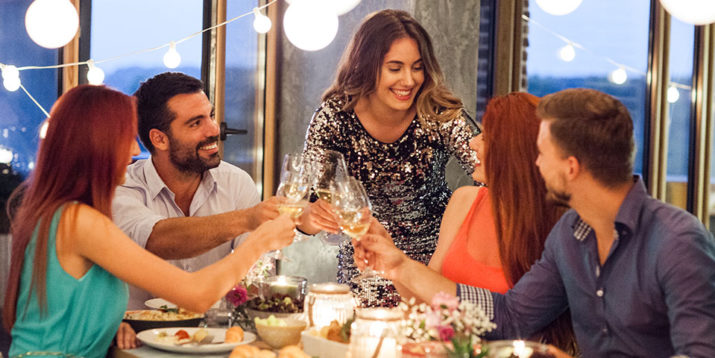 6 TIPS TO AVOID WEIGHT GAIN DURING HOLIDAYS
Are you afraid of gaining some weight during Christmas holidays? Here are some tips to avoid it.
1. INCLUDE PROTEIN IN EVERY MEAL
Proteins promote fullness for a longer time. In other terms, they can reduce your caloric intake as they supress hunger. An egg, some Labne, a moderate portion of lean chicken, meat or fish can achieve the mission.
2. INCLUDE FIBERS IN YOUR MEALS.
In other terms, have some veggies before and with each meal. By doing that, you will be automatically eating less and feeling full faster. So fibers as well supress hunger and reduce appetite. Be aware of some salads that may contain loads of calories especially if the dressing is high in oils or sugar.
3. LIMIT YOUR FAT INTAKE
Even the healthiest oils contain a high level of calories. For example, a teaspoon of olive oil contains 45 calories. Also, modifying your recipes to a healthiest version helps in reducing the stress felt after having a meal rich in fat or sugar. A light dessert or a fruit instead of a regular one, grilled food instead of fried, 0% sugar beverages instead of regular ones.
4. AVOID SHARING FOOD TO LIMIT THE QUANTITY INTAKE.
Prepare your plate that should include veggies, carbohydrates, protein and a moderate amount of fat. Sharing can make you eat more without being aware of the quantity.
5. DON'T DRINK YOUR CALORIES
Drinks can never satisfy your hunger. In general, drinks (even if fresh) contain a good amount of calories. For example, a medium orange contains 60-70 calories and is rich in fibers but a cup of orange juice contains at least 130 calories and doesn't make you well fed. Alcoholic beverages are usually high in calories so try to have the lighter ones (wine for example) in moderation.
6. TRY TO LIMIT YOUR DESSERT INTAKE
Sugar intake leads to a higher sugar consumption causing an unintended weight gain. If a fruit can satisfy your cravings so go for it. If not, which is normal sometimes, have a small portion of your favorite dessert instead of having a variety without noticing that quantity and calories.
Never forget that moderation is the key, and Christmas calories count. Stay healthy!