6 TIPS TO ENJOY WINE LIKE AN EXPERT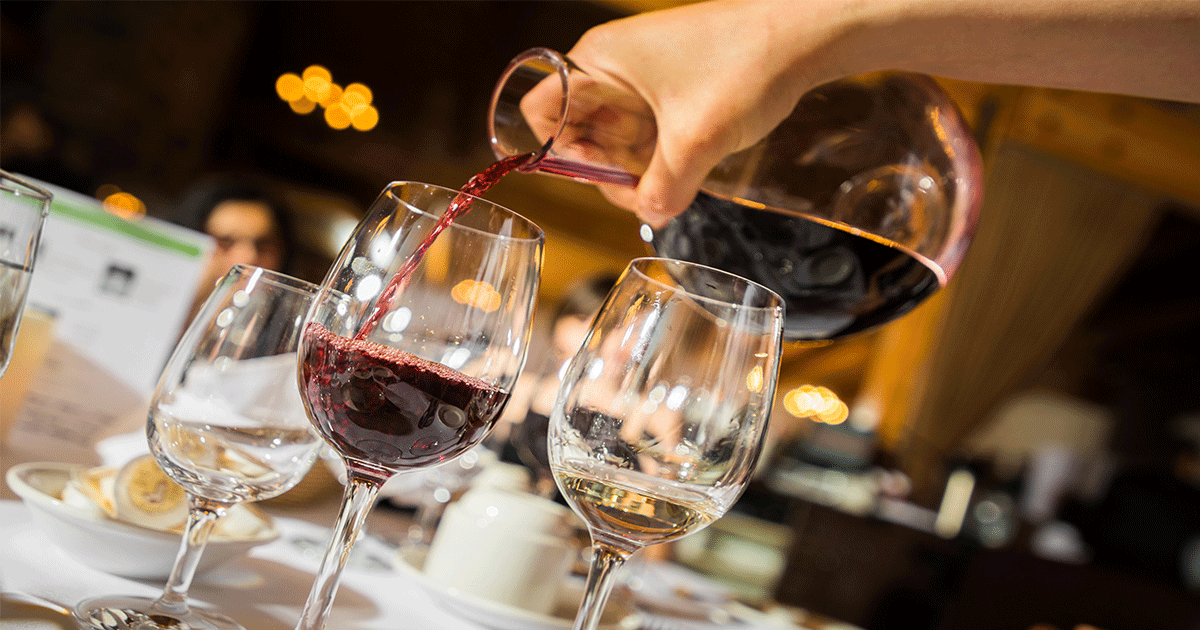 SOME OF THESE TIPS WILL EVEN IMPROVE THE FLAVOR OF WINE FROM PICKING THE RIGHT GLASS TO STORE IT AFTER YOU OPEN THE BOTTLE
1.INVEST IN WINE GLASSES
Wine is a peculiar beverage. Look for wine glasses with medium-sized bowls – which are versatile for all wines. Serving it in different glasses can change the way it tastes.
.Red wine glass bowls
Red wine glasses typically have a larger bowl compared to white wine glasses, This is because red wines are typically packed with tannins and full-body flavors, meaning they have a greater need for aeration than most whites. In a way, a larger bowl sort of acts as a mini decanter, allowing for a greater amount of surface area and therefore more exposure to oxygen that will soften and enhance flavors.
.White wine glass bowls
Compared to red wines, white wines usually benefit from smaller bowls. Most white wines have lighter bodies and flavor profiles, and the smaller bowl allows for these more subtle aromatic notes to be in close proximity to the nose. In cases of heavier bodied white wines, you may opt for a wider bowl as in the case of red wine.
.Sparkling wine glass bowls
Champagne and other sparkling wines are often served in flutes and other glasses with longer and narrower bowls. This shape allows for the bubbles to be heavily concentrated and quickly reach the palate upon taking a sip, regardless of how much has been consumed so far.
2.GET THE TEMPERATURE RIGHT
How to enjoy your wine starts with the temperature! The temperature you serve wine can have an impact on its taste, the perfect wine serving temperature can vary for every bottle.
Some of the more delicate floral aromatics in fine wines are completely subdued at overly cool temperatures or burn off too quickly when the wine is too warm.
. Red Wine: tastes better when served slightly below room temperature from 11 °C – 20 °C.
. White wines are best served around 7°C (6 °C – 14 °C).
. Sparkling Wine: Affordable sparklers do great at 4°C – 7°C.
Good to know:  A wine above 21 °C will start to smell more alcoholic because of increased ethanol evaporation that occurs as the temperature rises.
3.NEARLY EVERY RED WINE TASTES BETTER DECANTED
Decanting is the one thing we always forget to do that will greatly improve the flavor of red wine.
The classic method is to pour wine into a glass pitcher or wine decanter and let it sit for about 30-45 minutes. The faster way is to use a wine aerator which decants wine almost instantaneously.
With the exception of very old red and white wine, almost no wine will be harmed by decanting it (including sparkling), so it becomes a "Why not?" situation.
Decanting a cheap wine will often alter the chemical state of these stinky aroma compounds, making them more palatable.
4.DON'T OVERFILL THE GLASS
It varies by glass size and shape but, in general, you should pour about a quarter to a third of the way up. That again allows the air to get to the wine, particularly if you swill it gently, encouraging the release of aromas but it also means that the wines aren't warming up too much sitting in the glass.
5.HOLD YOUR WINE GLASS APPROPRIATELY
If you want to blend in with the wine snobs, hold your glass by the stem or the base. Never hold your glass by the bowl, as it will affect the wine temperature and end up affecting the taste and aromas of your wine. Holding your glass the proper way is a must within the wine community.
6.HOW LONG DOES WINE KEEP AFTER OPENED?
Most wine won't last through the night if the bottle is left open. Store open wines in the fridge (or preferably wine fridge). When stored at colder temperatures, the chemical processes slow down, including the process of oxidation that takes place when oxygen hits the wine, keeping it fresh. Stored in a wine cooler, you can keep it for 1 to 5 days depending on the wine. Keep wine away from direct sunlight and sources of heat (like above your fridge or oven).
LEBANESE WINES TO DISCOVER