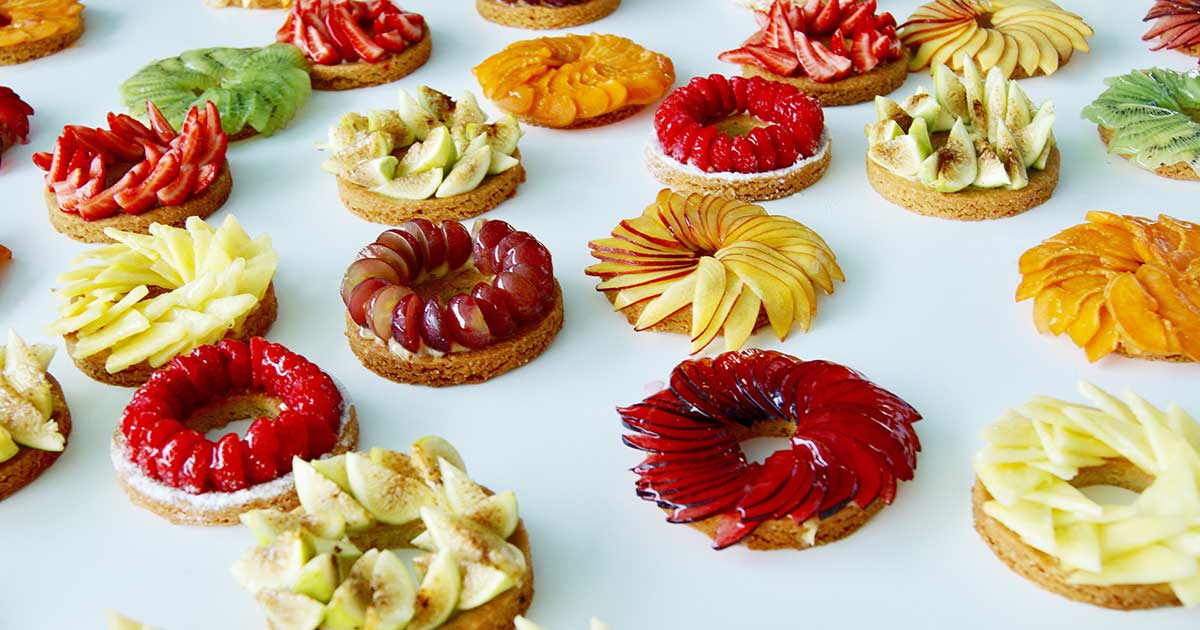 180g softened butter
160g caster sugar
4g of salt
2 eggs
240g flour
12g of baking powder
125g of butter
4 egg whites
1 pinch of salt
200g brown sugar
30g of almond powder
65g of flour
½ sachet of baking powder
1l whole milk
200g egg yolks
250g sugar
80g corn starch
80g butter
1 vanilla pod
1. In the bowl of a mixer, knead the butter in ointment. Add the sugar powder and salt. Mix. Incorporate the eggs one by one. Pour the flour and yeast. Mix everything well. Roll into a ball, spin and keep refrigerated overnight.
2. In a saucepan, heat the butter to make a nutty butter, then cool. Sauté the egg whites until they are small. Stir in brown sugar with egg whites. Gradually add the almond powder and flour previously mixed with baking powder. Pour the cooled hazelnut butter, then knead gently to obtain a homogeneous preparation. Reserve in the fridge for 1 hour.
3. Bake in an oven at 165°C for approximately 15 minutes. Allow to cool down. Then add the Crème pâtissière with fruits of your choice on top.
4. Heat milk, half the sugar and vanilla pod split lengthwise and scraped. In a bowl, whiten the egg yolks with the remaining sugar then add the cornstarch.
5. Once the milk boils, pour part of it on the yolks and pour everything back into the saucepan. Bring to boil 2 minutes while whisking brisky.
6. Add the butter then pour onto a stainless steel plate covered in film.
7. Cover the top of the creme with cling film and freeze for 15 to 20 mins to cool. Keep in the fridge.