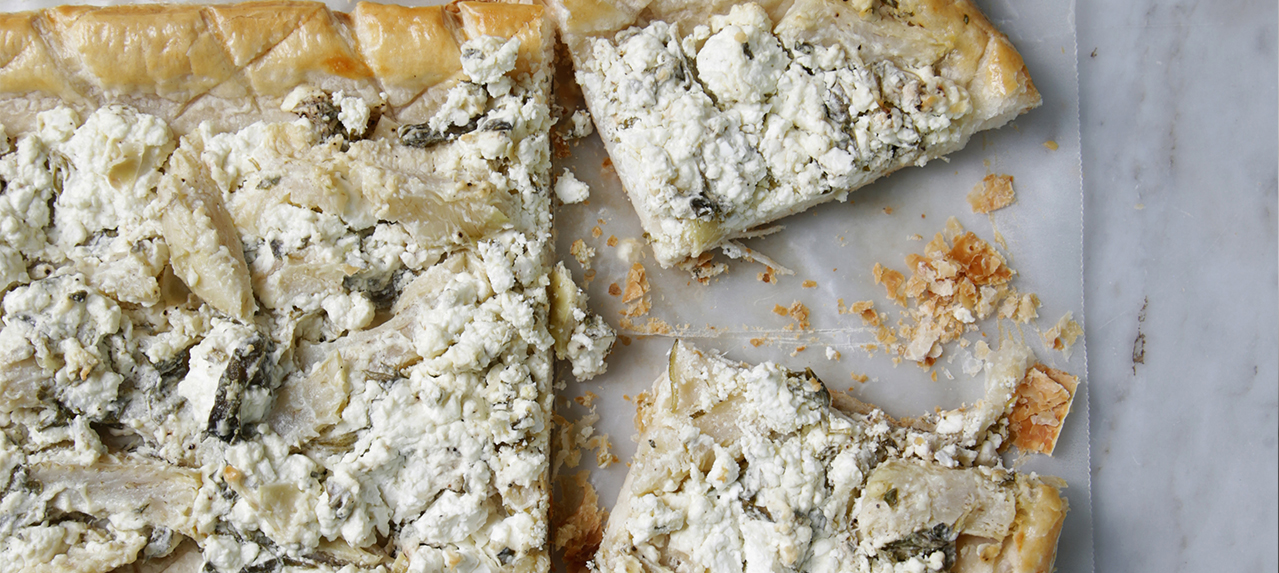 • 30ml heavy cream
• 120g feta cheese, crumbled
• 2 sprigs fresh thyme, leaves pulled off
• 200g frozen puff pastry, thawed
• Plain flour, for the work surface
• 5 – 6 artichoke hearts, sliced
• 2 tbsp olive oil
• 1 large egg, beaten
• Salt and pepper, to taste
1. Preheat oven to 200°C. Line a baking tray with parchment paper. In a small bowl, whisk the feta cheese with the heavy cream and thyme. Season with salt and freshly ground black pepper, to taste. Set aside.
2. On a lightly floured surface, roll the puff pastry into a 14 x 30 cm triangle. Transfer the pastry to the baking tray. Using a paring knife, lightly score pastry (do not cut all the way through), leaving a 2.5 cm border.
3. Evenly spread the feta mixture over the prepared pastry, make sure to stay within the boarder. Arrange the artichoke slices on top and drizzle with olive oil. Brush pastry border with egg.
4. Bake tart until pastry is puffed and beginning to brown, 10-15 minutes. Reduce oven temperature to 180°C and continue to bake until pastry is deep golden brown and cooked through, 20-25 minutes longer. Serve warm or at room temperature.