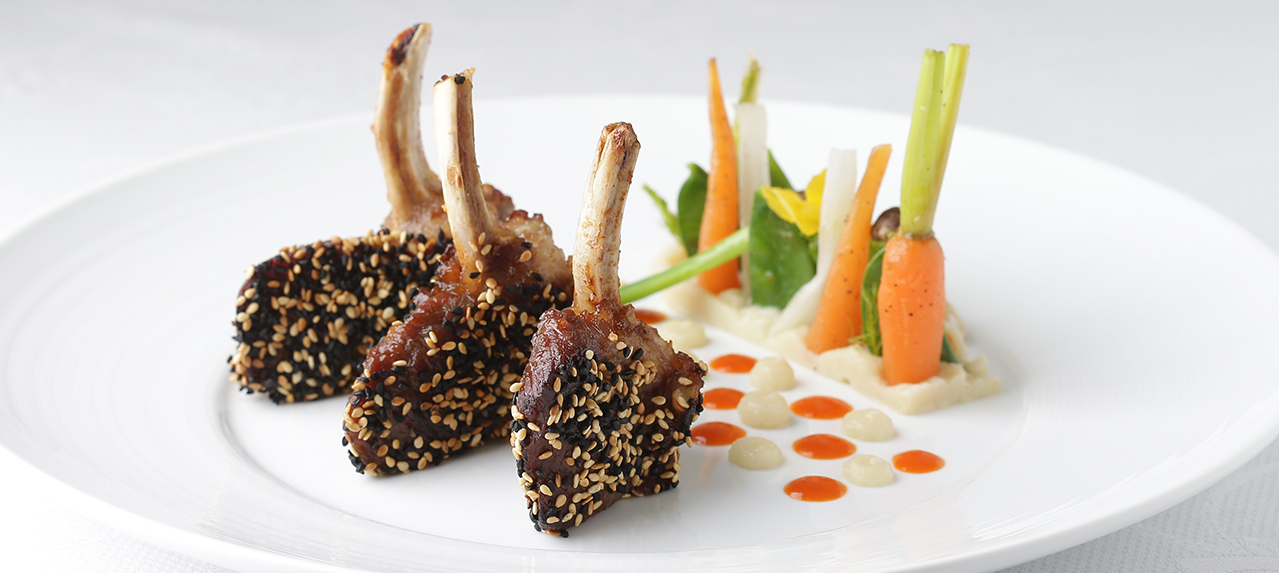 Asian Marinade
• 9 pcs. lamb ribs
• 24g garlic cloves
• 125g soy sauce low sodium
• 340g honey
• 50g brown sugar
• 120g white vinegar
• 30g rock salt
• 60g sunflower oil
• Sesame and nigella seeds
Artichoke purée and red bell pepper cream
• 6 pcs. fresh artichoke bottom
• 15g lemon juice
• 15g olive oil
• Salt & white pepper
• 2 red bell peppers
• 6g Sriracha sauce
• Black pepper
Vegetable garden
• 9 baby carrots
• 15 Shimeji mushrooms
• 9 snow peas
• 3 green onions or scallions
• 15g olive oil
• Salt and pepper
1. Chop the garlic and mix with the ingredients for the marinade. Marinate the ribs for 6 hours.
2. Cook the artichoke in boiling salted water, then mash it and add salt, lemon and olive oil.
3. Grill the red bell peppers and mash it adding black pepper and Sriracha sauce.
4. Peel and cook the carrots then stir-fry with the mushrooms, snow peas and green onions.
5. Grill the ribs for 3 minutes on each side for medium doneness.