ASPARAGUS & WILD MUSHROOM PUFF-PASTRY
Serves 6 | Prep/cooking 40min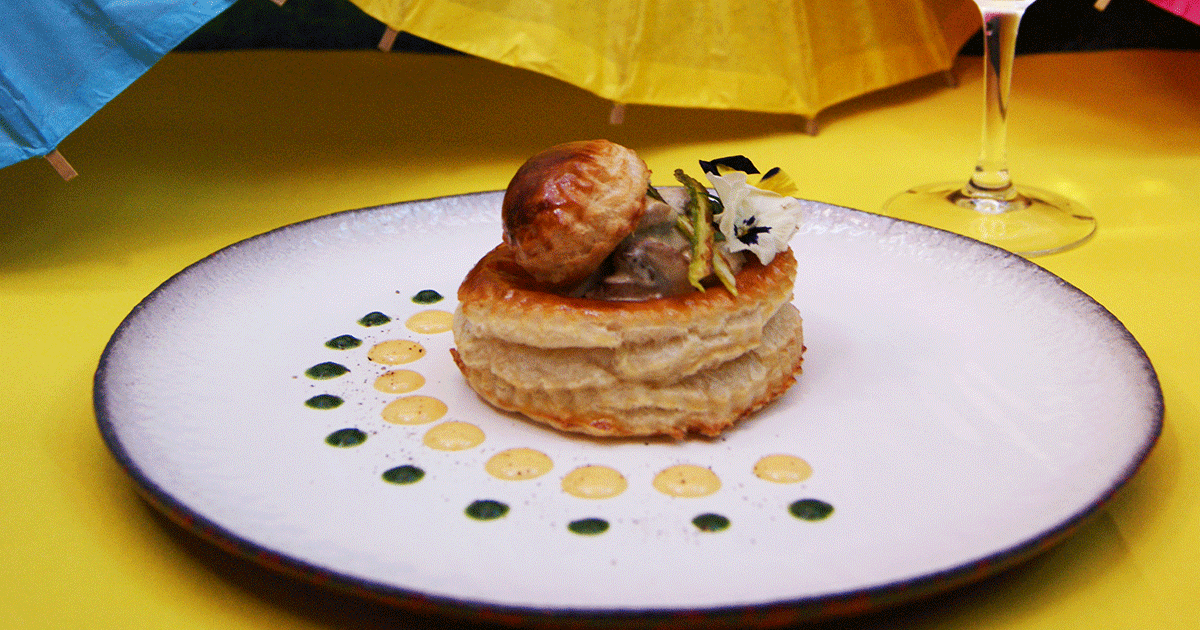 200g wild mushrooms
200g fresh green asparagus
35g shallots
60ml sweet wine, such as white Port
75g butter
200ml cream
Salt to taste
White pepper to taste
6pcs Puff pastry
Roll out your puff pastry dough. Using a cookie cutter, cut 8-9 cm circles. Brush with an egg wash and bake in a °C pre-heated oven, until fully risen and golden brown tops. Set aside.
Wash, rinse and peel asparagus. Cook in boiling salted water until slightly firm. Shock immediately in an ice bath for two minutes. Remove immediately and lay on a paper towel to dry. Cut all the bottom ends or fiber of the asparagus evenly, approximately 3 cm. Cut the asparagus on an angle, assuring it is bite size. Reserve the asparagus tips on the side.
Wash, peel and cut mushrooms into quarters or bite size. Cook them ("blond" no color) in a skillet with 40 of butter and salt and pepper. Set aside.
In a sauce pan, add remaining butter and sweat shallots, then add the mushrooms & asparagus together (not the tips), taste for seasoning.
Deglaze the mixture over high heat with wine. Lower heat and reduce to half left. Add cream and reduce by half.
Place a little sauce in the middle of a medium plate (so it may stick to the plate). Cut the top off the puff pastry and remove the center dough. Place the bottom part or the puff pastry in the middle of the plate on the sauce.
Fill the puff pastry with the mixture. Garnish with puff pastry lids, edible flowers and asparagus tips.
You should flambé with care, the flame burns and removes the alcohol.