TAGLIOLINI WITH BASIL WALNUT PESTO
BY MÖVENPICK HOTEL & RESORT BEIRUT
Serves 1 | Prep/cooking 1 hr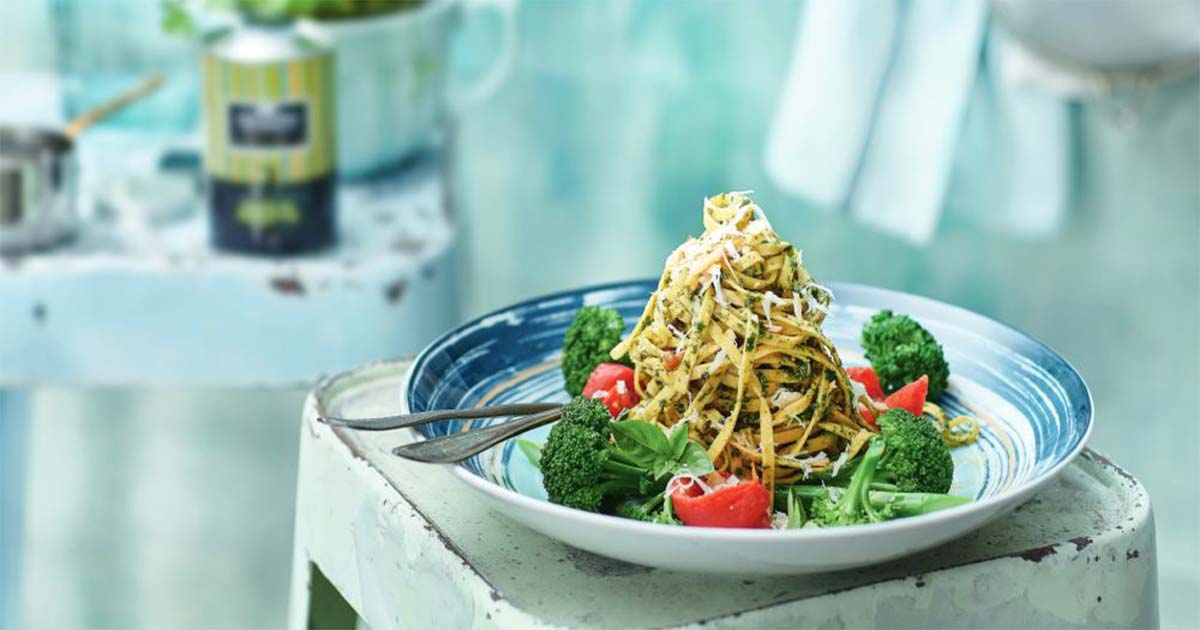 Basil walnut pesto
50g walnuts
60g flat leaf parsley
60g basil
1 clove garlic
125 ml olive oil
75g pecorino sardo
1 small chilli
Sea salt and freshly ground black pepper
Roasted tomatoes
4 tomatoes
1 clove garlic
2 tbsp olive oil
1 sprig basil
Sugar, sea salt, freshly ground black pepper
Tenderstem broccoli
Garnish
Fresh basil, grated pecorino
1. For the basil walnut pesto, roughly chop the walnuts and toast in a dry pan until golden brown. Remove from the pan immediately once done.
2. Rinse the basil and parsley; shake to remove any excess moisture and chop.
3. Peel and roughly chop the garlic. Purée all the ingredients – except the olive oil – in a food processor until well combined. Add olive oil and continue to blend until a fine paste forms.
4. Cut the chilli lengthwise, remove the seeds and slice into fine strips.
5. Finely grate the cheese and stir into the mixture along with the chilli. Add salt and freshly ground black pepper to taste.
6. For the roasted tomatoes, blanch the tomatoes in boiling water for 3 to 4 seconds and immediately submerge in ice water.
7. Skin the tomatoes, cut in half and remove the seeds. Place cut side down on a baking tray.
8. Peel and finely slice the garlic, placing the slices on top of the tomatoes. Drizzle with olive oil and scatter a few basil leaves over the top. Season with sugar, salt and pepper and slow-roast in the oven for 2 hours at 80ºC.
9. For the tenderstem broccoli, rinse the broccoli, trim the ends cutting diagonally and blanch for 2 – 3 minutes in boiling salted water. Drain and briefly plunge into ice water before draining again.
FROM MÖVENPICK HOTEL ALSO
GOOD TO KNOW
To dress and serve the pasta properly, add some of the boiling, salted pasta water to a bowl, combine it with the pesto and then add the cooked tagliatelle. Use a fork to twirl the pasta and transfer to a deep plate, creating a pile in the centre of the plate.