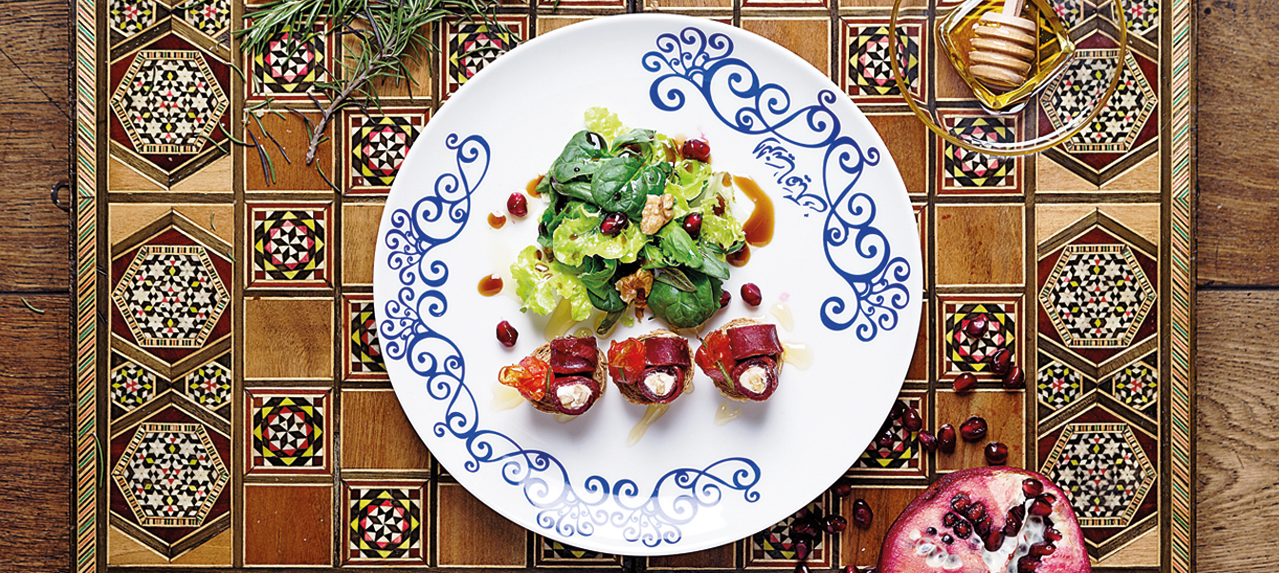 • 120g basterma
• 90g goat labneh
• 90g walnuts
• 20g honey
• ½ markouk bread
• 80g pomegranate kernels
• 80g mesclun salad
• 40 ml lemon juice
• 80 ml olive oil
• 8g salt
• 2g crushed pepper
• 60g pomegranate molasses
• 60g cherry tomatoes
1. Crush half of the quantity of the walnuts and mix with the labneh. Add honey, salt and pepper.
2. Place labneh mixture in the basterma slices and roll. Roll the markouk bread, cut into 1 cm thick slices and toast.
3. Slice the basterma and place over the markouk bread. Season the cherry tomatoes with salt, pepper and olive oil and place in oven for 8 minutes at 150°C.
4. For the salad dressing, mix the olive oil, pomegranate molasses, lemon juice, salt and pepper. To serve, set the basterma with the markouk bread on the serving plate topped with the seasoned cherry tomatoes.
5. Place the mesclun salad next to the basterma and top with the dressing. Garnish with fresh pomegranate and the leftover quantity of walnuts.