BEETROOT FLATBREAD WITH GRILLED EGGPLANT AND ZUCCHINI
Serves 3 | Prep/Cooking Time 30 mins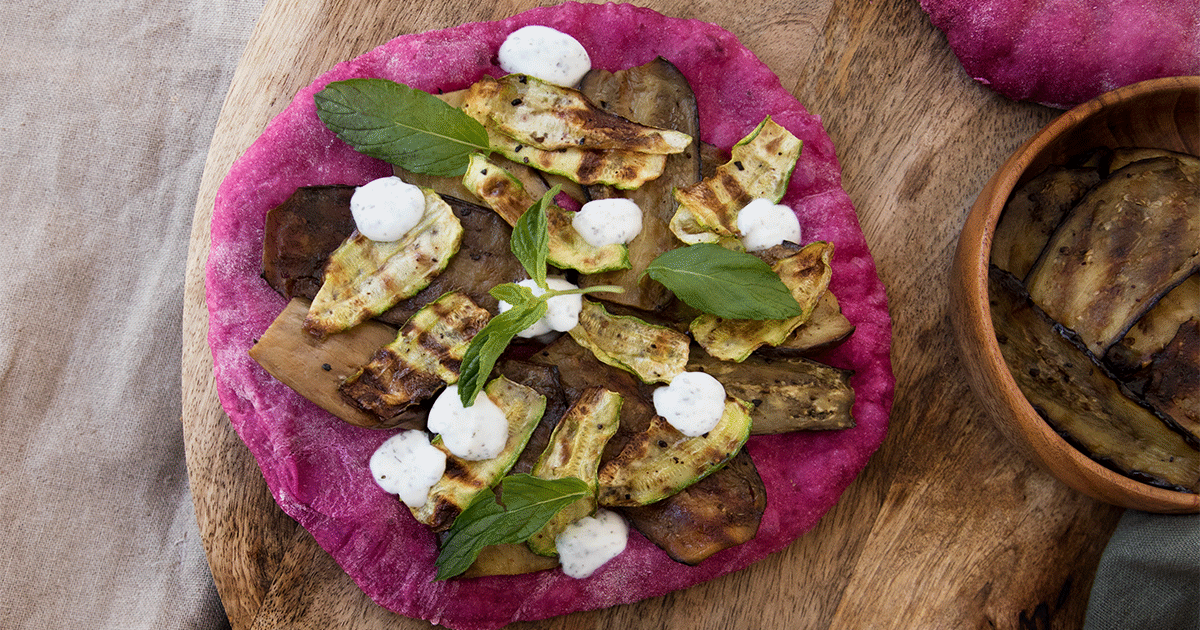 For the dough
250g white all-purpose flour
1 tsp instant yeast
150ml warm water (around 40°C )
1 tsp sugar
2 tbsp olive oil
1 cooked beetroot (grated)
1/4 tsp sea salt
For the vegetables
1 to 2 pcs eggplant medium size (sliced)
4 pcs zucchini (sliced)
1 tbsp olive oil
Pinch sea salt
For the yogurt mint dip  
3 tbsp Greek yogurt or regular yogurt
1 tbsp extra virgin olive oil
Juice 1/2 lemon
Pinch sea salt
1 to 2 tsp dried mint
For the dough
Mix the yeast, sugar, olive oil with the warm water and leave for 5 minutes.
Add the flour and salt to a large bowl and mix.
In a stand mixer with a hook attachment add yeast mixture and gradually add the flour and mix around 5 minutes until it forms a one-piece dough.
Transfer the dough onto a floured board. Knead for a few minutes until the dough is elastic. Now add in the grated beetroot and knead to incorporate.
Transfer back to the bowl and cover with a piece of cloth for about an hour. Until the dough has doubled in size.
Punch the dough and transfer back onto the floured board and knead once again.
For the grilled vegetables
In a heated pan with olive oil on top, add the zucchini and eggplant.
Sprinkle a bit of salt and fresh pepper
Turn frequently until cooked through and slightly charred.
For the yogurt mint dip  
Add all the ingredients to a bowl and mix to combine.
Add a little bit of water if the mixture is too thick to loosen it.
For the bread
Divide the dough into four pieces then roll.
Heat a pan.
Transfer the rolled dough into the pan and allow to cook and char a little on that side then bubbles should start to appear leave it around 1 to 2 min and your flatbread is ready. Repeat the same thing with the rest of the pieces.
Serving
Top the flatbreads with the griddled vegetables and mint dip.