CAILLE EN DEUX CUISSONS, COING ET HRISSÉ
Serves 2 | Prep/cooking time 2 hrs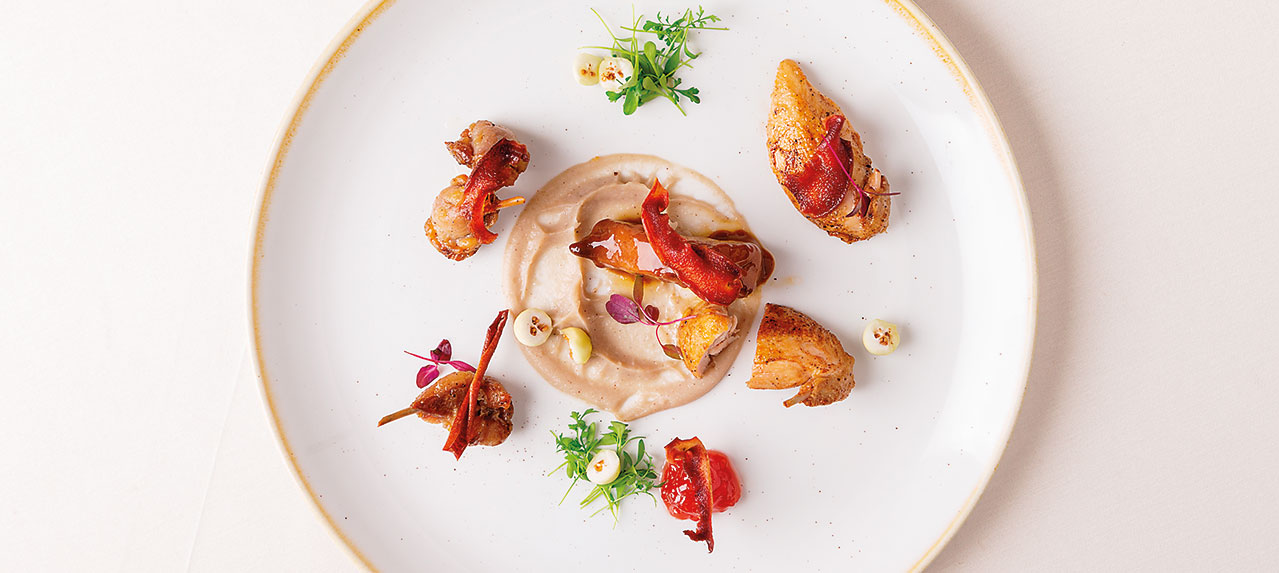 4 quail pcs
100g butter
500g duck fat
2 garlic cloves
Salt
Pepper
2 thyme of Provencesprig
Hrisse cream
200g wheat
100g butter
500ml vegetable
broth
500ml quail jus
Salt
White pepper
Poached & glazed quince
4 thick quince slices
1L water
3 star anise
1 bay leaf
1 cinnamon stick
3 juniper berries
3 cloves
250ml quail jus
50g butter
Salt & pepper to taste
Garnish
100g quince jelly
White myrtle berries (henbless)
Garden cress (rched)
1. Debone the quails and separate the thighs from the breast.
2. Season the thighs with salt and pepper and confit them in duck fat, one garlic clove with skin and a sprig of thyme.
3. Set aside the breast for pan-frying before service.
4. Cook the wheat in the vegetable broth, the quail jus and the butter. Season with salt and white pepper.
5. Once cooked, mix it until it becomes a hrisseh cream and reserve it for the dressing.
6. In a casserole, poach the quince in water and all the spices mentioned, then glaze them in the quail jus and butter.
7. When serving, pan-fry the quail breast. Allow to rest a few minutes then remove from the pan. Plate by decorating with hrisse cream and the roasted and glazed quince. Add the quail breast and thighs with a few drops of quince jelly and garnish with garden cress and white myrtle.