CALAMARI RISONI WITH SQUID INK,
CUTTLEFISH TAGLIATELLE & CRUNCHY VEGETABLES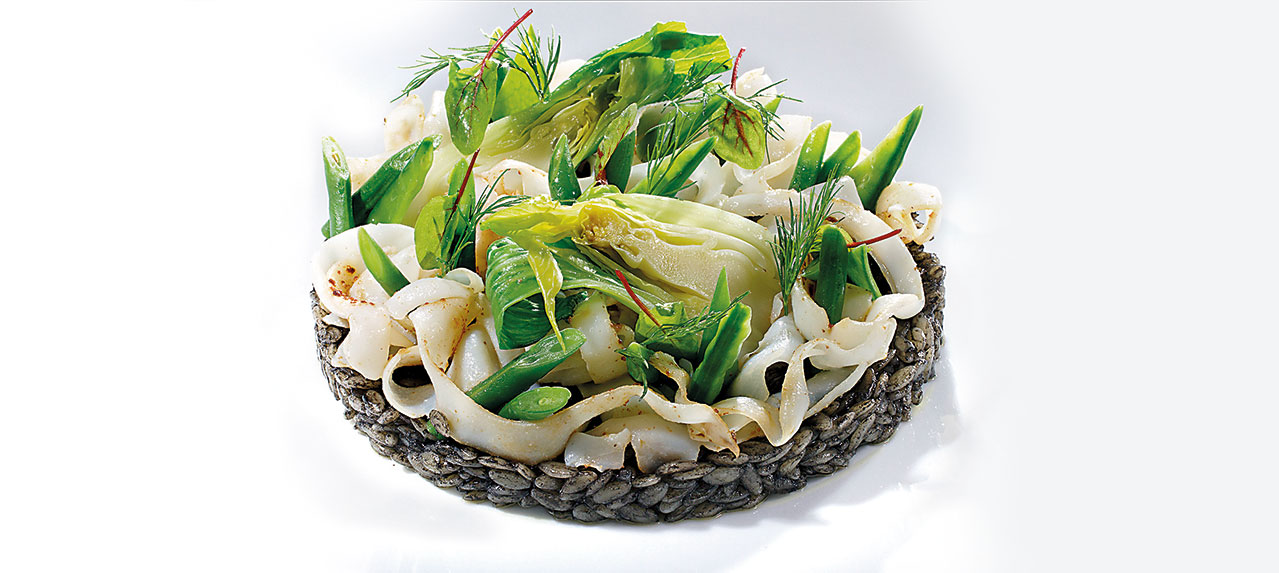 500g cuttlefish filet (or squid)
100g shallots
500g risoni (or orzo pasta)
50 ml white wine
1L chicken stock
50g parmesan cheese
10g squid ink
300g bak choy (Chinese cabbage)
150g green beans
150g snow peas
Olive oil
Sea salt
Dill
Chervil (French parsley)
Baby sorrels
1. Place the cuttlefish filets in the freezer until half frozen (about 1 hour).
2. Cut the filets in very thin slices (like tagliatelles pasta) and fry in a pan for 20 seconds with olive oil.
Season with salt.
3. For the risoni, sweat the shallots in olive oil, then add the risoni. Deglaze with white wine.
4. Add the stock slowly. Cook for 5 minutes. Add the squid ink and parmesan cheese just before serving.
5. Blanche the vegetables, add the olive oil and salt. Place the risoni and cuttlefish pieces in a round cooking mold. Garnish with the vegetables and fresh herbs.