Serves 8-10 | Preparation Time 20 mins | Decorating Time 90 mins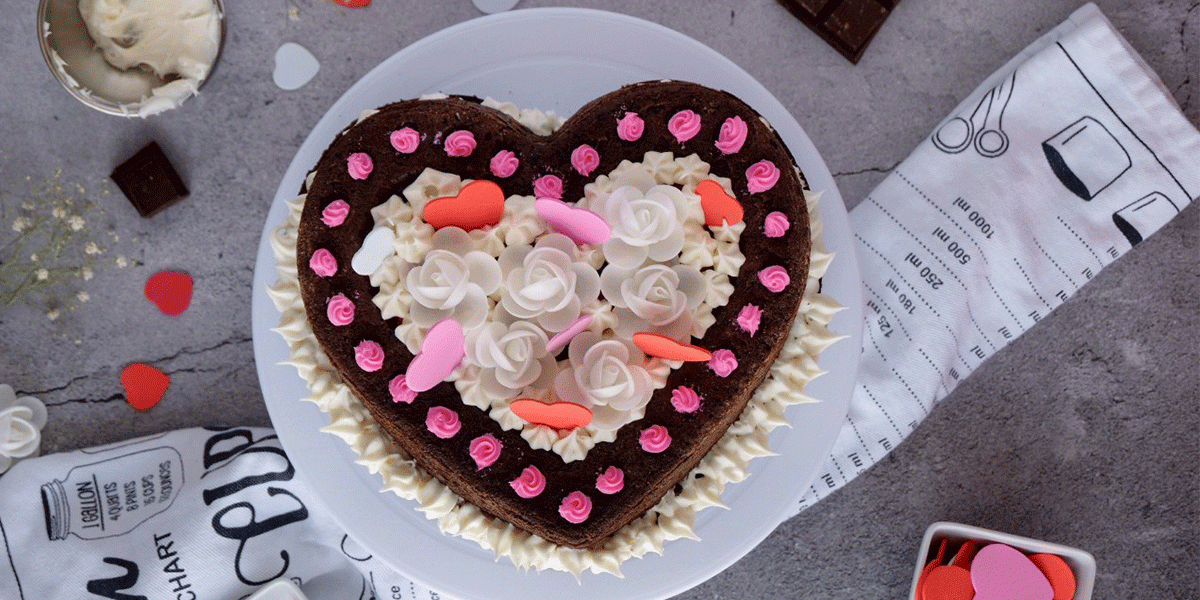 FOR THE CAKE
260 g all-purpose flour
200 g brown sugar
80 g cocoa powder
1 tbsp instant espresso powder
1.5 tsp baking powder
1 tsp baking soda
1/4 tsp salt
2 eggs (room temperature)
1 tsp vanilla extract
120 ml vegetable oil
240 ml milk
180 ml hot water
FOR THE BERRY FILLING
300 g mixed berries (fresh or frozen and thawed)
50 g white sugar
10 g cornstarch
3 tbsp water
1 tbsp lemon juice and a bit of lemon zest
1/2 tsp vanilla extract
FOR THE BUTTERCREAM  
4 egg whites
200 g white sugar
1/4 tsp salt
290 g butter (room temperature)
1 tsp vanilla extract
100 g icing sugar and some food coloring (optional)
CAKE
Preheat oven to 180°C. Grease a heart baking pan lightly and set aside.
In a large bowl mix the flour, brown sugar, cocoa powder, espresso powder, baking powder, baking soda and salt. Once well combined, add the eggs, vanilla extract, oil and milk. Mix well.
Add the hot water and mix everything until well combined and no more bubbles.
Pour the batter into the prepared tin and bake for about 35 minute or until a wooden skewer inserted into the center comes out clean. Let it cool completely on a wire rack.
FILLING
Wash and dry the berries very well. If using frozen ones, let them defrost. Try to save all the juices.
Add sugar rubbed in lemon zest (to release all the lemony taste), cornstarch to a small bowl and mix. Add water, lemon juice and vanilla extract in a pot.
Add the cornstarch-sugar mixture and whisk until there are no more lumps. Bring the mixture to a boil, then add the berries and let it simmer for 2 to 4 minutes. The filling should be soft but not mushy and thickened. Let it cool completely.
BUTTERCREAM
Add the egg whites and sugar to a large heatproof bowl and place on a pot with simmering water. Mix slowly until the temperature of the mixture reaches 160 °C and the sugar has dissolved completely.
Take off the heat, pour it in a medium bowl (room temperature) and mix with a handheld mixer for about 5 minutes on high speed until the egg whites are glossy and stiff peaks form.
Add the soft butter in small pieces, one after another and mix well each time.
Add the vanilla extract and icing sugar, mix on low speed for 1 minute or 2, then on high speed for about 5 minutes until thick and creamy.
Divide the butter cream into portions and mix with food coloring if you would like for the decoration. Fill into piping bags and set aside.
ASSEMBLE
Cut it in half and place the bottom part on a serving plate. Use the uncolored buttercream and pipe little swirls along the edges to create a sort of barrier for the filling. You should have a consistent barrier.
Add the berries filling in the middle and distribute evenly. Place the second cake layer on top and place in the fridge for 10 to 15 minutes.
Use the colored butter cream to decorate the top of your cake (optional) you can also leave it simple or use some sprinkles.
MORE RECIPES YOU'LL ENJOY