CHOCOLATE AND PASSION FRUIT BABA
Serves 8
Preparation 10 mins | Cooking 35 mins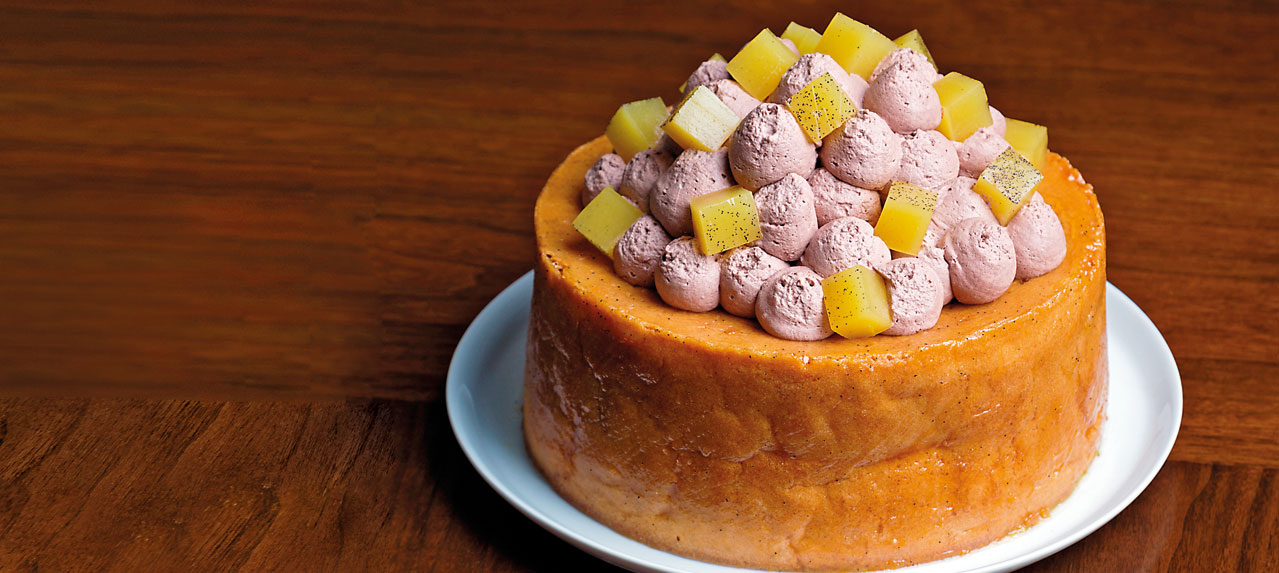 For the baba dough
• 1 lemon
• 250g flour
• 8g salt
• 1 tsp vanilla powder
• 25g acacia honey
• 10g dry yeast
• 8 eggs
• 100g soft butter + 25g for the mold
For milk chocolate chantilly
• 210g milk chocolate
• 300ml liquid fresh cream
• 50g powdered sugar
For syrup
• 16 unripe passion fruits
• 1L water
• 450g caster sugar
• 150ml white rum
For the jelly passion fruit
• 300ml of prepared passion fruit syrup
• 4 sheets gelatin
For finishing
• 100g apricot jam
Prepare the baba au rhum a day ahead

1. Scrape the lemon and finely-chop it zest . Add flour, sea salt, vanilla powder, honey, yeast, chopped lemon zest and 3 eggs into the bowl of an electric stand
mixer. Mix at medium speed until the dough detaches from the inner side of the bowl. Add 3 more eggs, mix well before adding the last two eggs and mix for 10 minutes.
2. At this point, add the small butter cubes without stopping the mixer until the dough achieves a homogeneous and liquid consistency. Leave it to rest for approximately 30 minutes at room temperature. By then, the mix should have risen to the edge of the bowl.
3. Pour the dough into a 26cm diameter crown mold and allow it to rest for about an hour and rise to edge of the pan.
4. Preheat oven to 200°C. Bake the baba for 30 minutes then remove and place the cake on a baking tray. Leave the baba to cool at room temperature overnight in an airtight container.
For milk chocolate chantilly
5. Chop the chocolate and put in a bowl. Pour the fresh cream over the sugar and mix well with a spatula.

6. Place the pan over a low flame until the mixture comes to a boil. Set the pan aside and immediately pour the cream over the chopped chocolate whilst whipping with a hand whisk until chocolate melts and let it cool. Keep the bowl 6-8 hours in the refrigerator (preferably overnight). Before being used, the preparation should have a temperature of 4°C.
7. To prepare the syrup, cut the passion fruit in half. Using a teaspoon, scrape the pulp and collect the juice. Add sugar to the water and mix until boiling point. Set pot aside, introduce the previously-collected passion fruit juice,then add rum.
8. Place a pastry rack on a bowl of identical size and place the baba on it. Using a ladle, sprinkle the baba with the warm syrup. Set aside 300ml for the jelly. Check that the baba has fully absorbed the syrup.
9. Pour the apricot jam in a saucepan over low fire. Keep mixing the apricot jam until it boils then use a brush to apply a layer on the baba au rhum and allow to cool.
For the passion fruit jelly
10. Put the gelatin leaves in a large pot of cold water until they grow softer.
11. Heat the syrup and add the softened leaves and mix until they completely dissolve.
12. Toss a small square mold of stretchable film and pour in the jelly. Let it completely cool before cutting it into small cubes.
13. Pour the refrigerated cream into the bowl of an electric stand mixer and mix at medium speed until it becomes relatively firm yet frothy.
14. Garnish the center with Chantilly and sprinkle with jelly cubes. Leave in the refrigerator until serving time.