CRISPY AUSTRALIAN LAMB SALAD
Serves 4 | Prep/cooking time 55 mins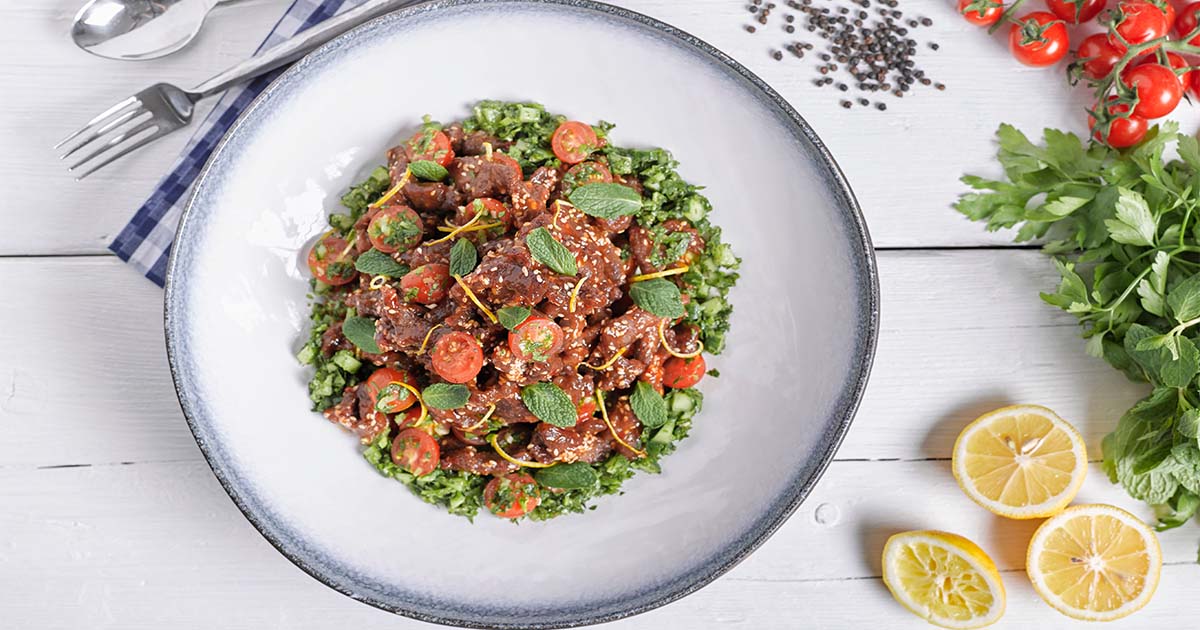 1kg Australian lamb loin (cut into strips)
¼ cup freshly squeezed lemon juice
¼ cup olive oil
½ cup sweet chili sauce
½ cup oyster sauce
2 tbsps sesame oil
1 cup cornstarch
3 tbsps sesame seeds, roasted
1 cup minced scallions, white and green parts
1 cup fresh flat-leaf parsley, chopped
1 cucumber, unpeeled, halved lengthwise, seeded
2 cups cherry tomatoes, halved
1 pinch sugar
Freshly ground black pepper, to taste
Salt, to taste
Fresh mint leaves, to garnish
In a large bowl add the lamb, sesame oil, salt, pepper and cornstarch. Mix well and fry in hot oil. Remove from the oil when crispy.
In a separate bowl, add sweet chili sauce & oyster sauce. Add crispy lamb to the bowl, mix well and top with roasted sesame seeds.
For the salad, add lemon juice, olive oil, salt, sugar and pepper to a bowl. When ready to serve, add tomatoes, scallions, cucumber and parsley. Toss together to combine.
To serve, top the salad with the crispy lamb and garnish with mint leaves.
OTHER RECIPES BY TRUE AUSSIE BEEF & LAMB