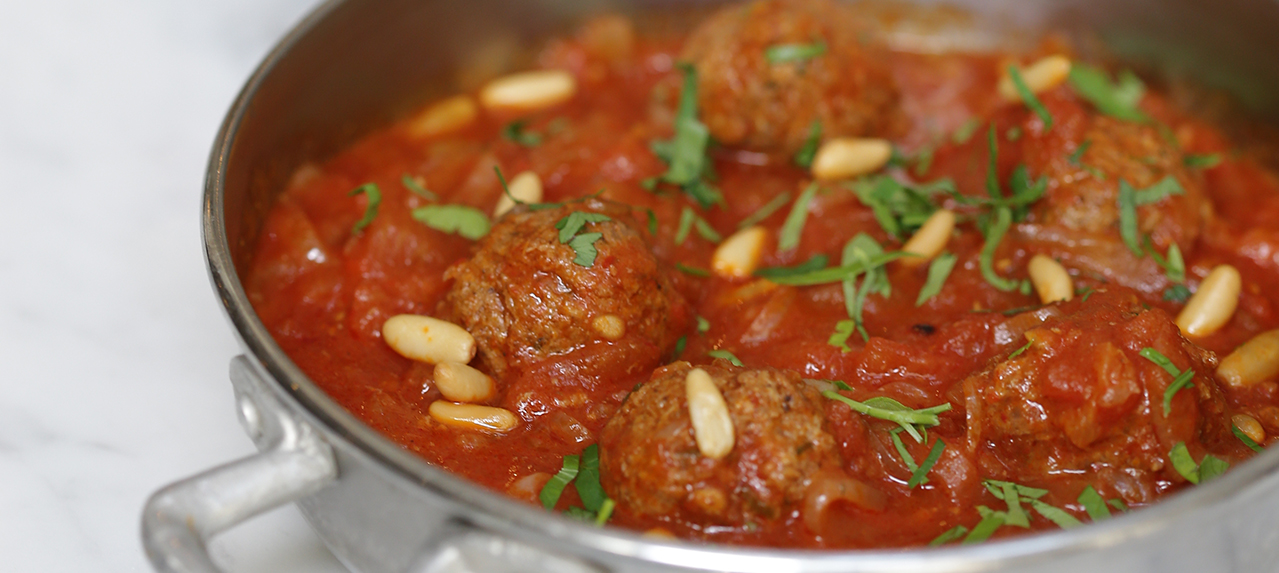 Daoud basha
• 400g kafta meat
• 50g breadcrumbs
• 25g pepper paste
• 3g hot red pepper powder
• 8g chopped parsley
• 80g tomato paste
• 250g onion rings
• 10 peeled garlic cloves
• 400g chopped peeled tomatoes
• 50ml sunflower oil
• 1L water
• 3g cinnamon stick
• 50g pine nuts
• 1 tsp cinnamon powder and seven spices
• Salt and black pepper to taste
Rice
• 1 tbsp sunflower oil or butter
• 1 tbsp vermicelli
• 2 cups rice
• 4 cups water
• 1 tsp salt
1. Wash and drain the rice. Boil 4 cups of water and fry the vermicelli in the oil or butter on low heat. Add the rice when the vermicelli turn golden and stir for 2 to 3 minutes, then add the hot water.
2. Bring to the boil again, lower the heat, cover and simmer until all the water is absorbed. Don't stir after adding the water. Remove from heat and cover with a kitchen towel or a clean cloth and allow to rest.
3. Blend together the ground kafta meat, breadcrumbs, chopped parsley, peeled garlic, seven spices, salt, cinnamon powder, hot red pepper powder and black pepper; mix until well combined. Roll the mixture into walnut sized balls and flatten the balls slightly.
4. In a pot add the oil to fry the onion rings and pine nuts for 5 minutes. Add the meatballs and cover the pot for 10 minutes. Add the chopped tomatoes and let boil for 5 minutes.
5. Finally, add the tomato paste, pepper paste, cinnamon stick and water and leave to boil for 10 minutes. Remove from heat and serve hot with the rice