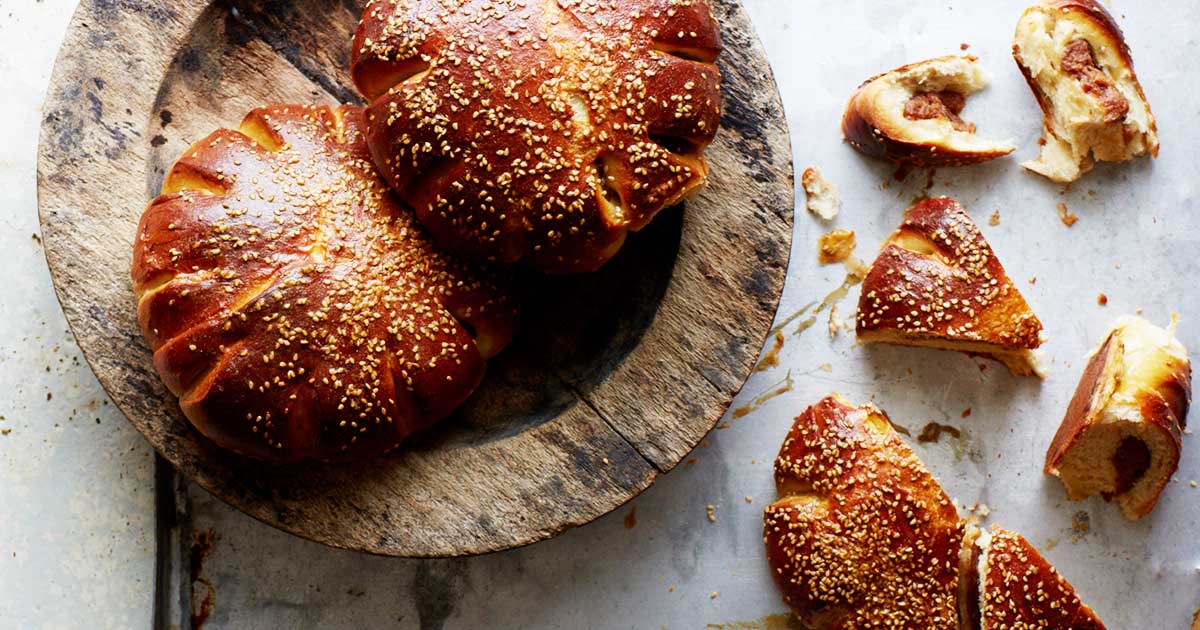 1kg White bread flour
2tsp Baking powder
300ml Lukewarm water
100g Granulated sugar
4 tsp Dried yeast
3 Large eggs, beaten
2tsp Salt
200ml Sunflower oil
Zest of 1 lemon or 1 orange
600g Medjool dates, pitted
3 tbsp orange blossom water
1 Large egg, beaten
25g sesame seeds
1. Sieve the flour and baking powder into a large bowl and make a well in the centre. Pour the lukewarm water into the middle, followed by the sugar, yeast and eggs.
2. Allow the yeast to activate – the mixture will become frothy after about 3-4 minutes, then pour into the flour mixture and mix well to make a soft dough.
3. Add the salt to the dough, along with the oil and orange or lemon zest and continue to mix and knead until the dough feels smooth and elastic. Transfer to a board when you feel it's ready to knead and work it until it's smooth.
4. Put into a clean bowl and cover and leave to rise for 30 minutes until it doubles in size.
5. Whizz the dates and orange blossom water together in a food processor to make a paste for the stuffing.
6. Divide the dough up into four 450g pieces. Roll out each piece on a lightly floured board until it's a rough round and measures around 18cm. Put a quarter of the date mixture in the middle and spread out a little to leave a border of dough around the edge, then wrap the dough around it so that it covers the date mixture. Turn over so the seam is underneath. Set aside to prove for 30 minutes.
7. Preheat the oven to 200°C/180°C fan oven/gas mark 6.
8. Flatten each dough loaf slightly and cut around the edges of the dough to reveal the inside, leaving a large round in the middle intact.
9. Brush with beaten egg and sprinkle with sesame seeds then transfer to two lightly floured baking sheets and bake for around 35-40 minutes until the bread is dark golden. After about 20 minutes, glaze the loaves with the egg wash again and return to the oven to finish cooking.
10. Transfer to a wire rack to cool then slice and serve.