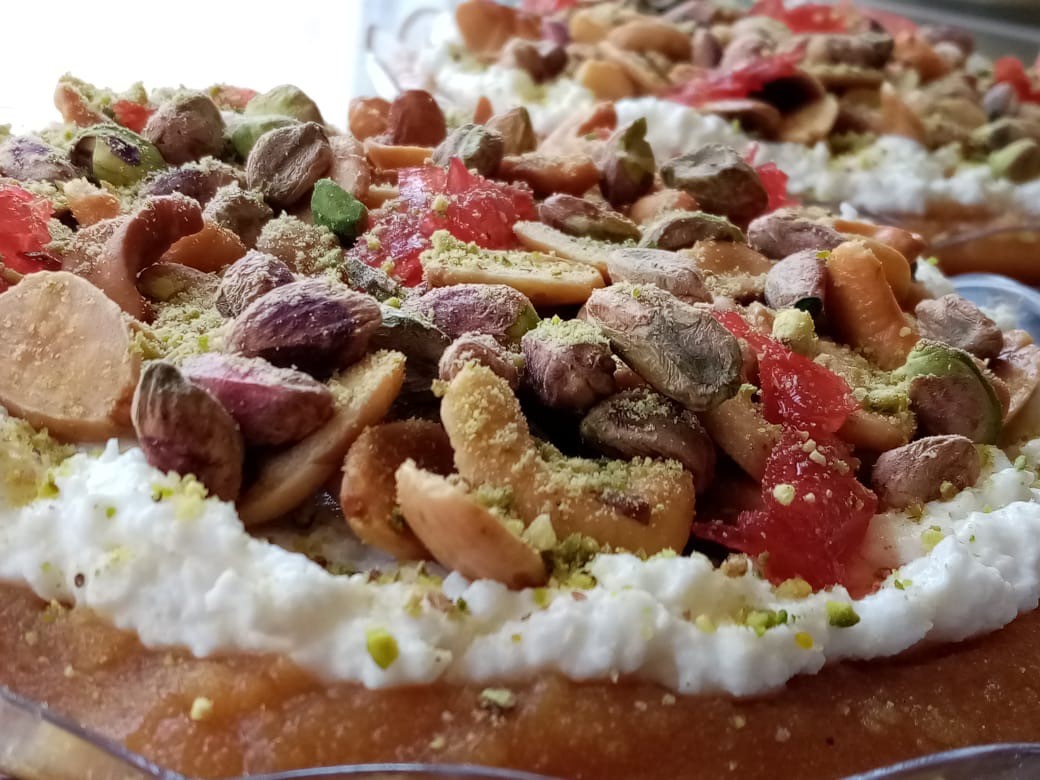 125g of semolina (super fine)

100g of butter substitute 

240g water 

200g of sweetener 
Diet ashta
2l liquid low fat milk

1 tbsp vinegar 

1l low fat milk

1/2l liquid low fat cream

1 tbsp powdered rice 

3 tbsp sweetener 

6 tbsp corn starch
Start by using 2 pots. Place the sweetener on mid fire range until it melts and caramelizes in color a bit. 

In another pot also on mid fire range place the semolina. Release all excess humidity from it and keep stirring until it turns a bit pink in color. Add the butter substitute placed at room temperature and mix until you get a sandy like texture

Add the sweetener to the semolina mix and stir until they are mixed together and start to thicken. Then start adding the water gradually until you get the desired texture which should be like a play dough. 

Transfer to a flat plate and cover and place in fridge.
Diet ashta
Place the 2 liters of low fat milk in a pot and turn on the heat until it boils. Add the vinegar. The milk thus separates fat from other ingredients. Sieve the fatty part which flows on top and place it aside

In another pot put a liter of low fat milk with the fresh low fat cream until it boils then add the rest of the ingredients and stir. Once thickened add it to the milk fat done before and stir. Leave to cool then refrigerate 

Before adding the corn starch put it with a bit of low fat milk then add it to the mix so you don't get any lumps
To serve:
Place 55g from the dough diet Mafroukeh add to it 35g of diet Ashta and drizzle on it 10g of roasted nuts
Calories/per serving: 200