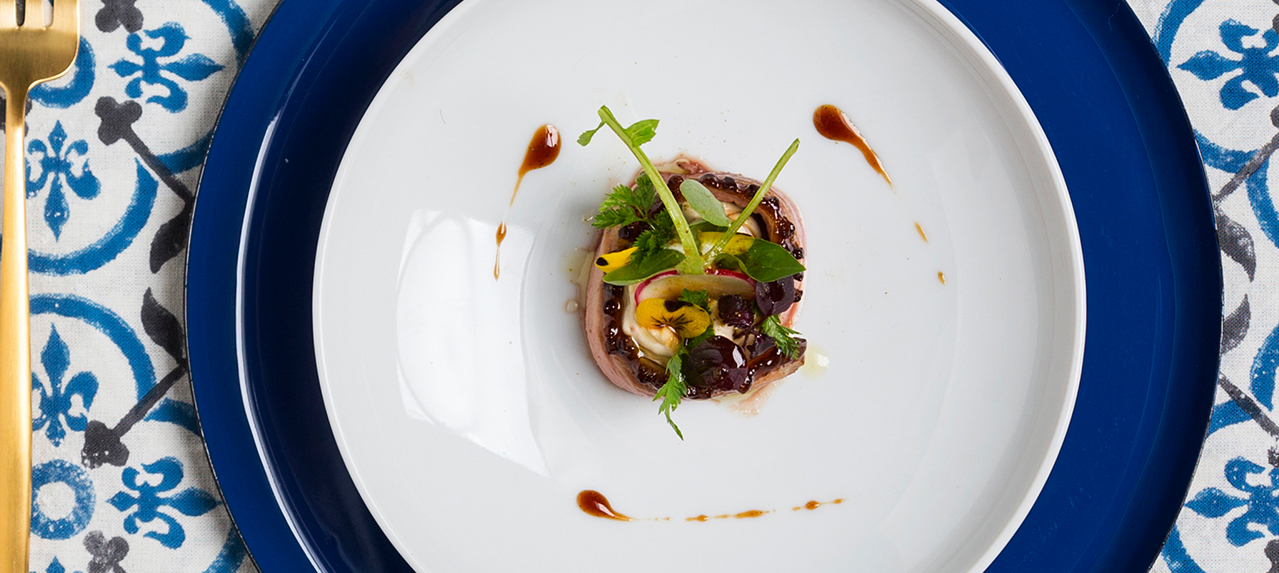 For the cumin-infused pomegranate molasses
• 0.5 cup pomegranate molasses
• 1 tsp cumin powder
• 1.5 tsp cracked roasted cumin
For the pan seared duck magret
• 1 pc trimmed duck breast
• Fleur de sel, to taste
• Star anise, to taste
• Szechuan pepper, to taste
• Freshly milled black pepper, to taste
• Cumin powder, to taste
• Thyme, to taste
• Cumin, to taste
• 3 tbsp cumin infused pomegranate molasses
For the hummus mixed with vegetables
• 0.5 cup hummus bi tahini
• 1 tbsp cucumber skin brunoise
• 1 tsp radish brunoise
• 3 mint leaves, chiffonade
• 1.5 tbsp tomato skin
• 1 tsp dried tomatoes, diced
• 1 tbsp extra virgin olive oil
• 1 basil leaf, chiffonade
1. For the infused molasses, place the ingredients in a small saucepan and leave to infuse for 30 minutes. Take off heat, cover and leave to infuse aside.
2. Season the duck breast with fleur de sel and the spices. Pan sear the duck breast skin side down in a preheated pan and transfer to a grill.
3. Glaze with the pomegranate molasses and cook in a preheated oven at 180°C for 5 minutes glazing, twice. Remove from the oven, glaze again and leave to rest covered for 10 minutes.
4. For the hummus, place all the ingredients together in a bowl, mix gently to get a homogeneous mixture.
5. Plate by piping the hummus in the center of the plate, roll two slices of the duck breast in the middle. Garnish with the vegetables. Drizzle with extra virgin olive oil and serve.