Makes 10 éclairs of 11 cm | Prep/cooking 3 hrs 30 mins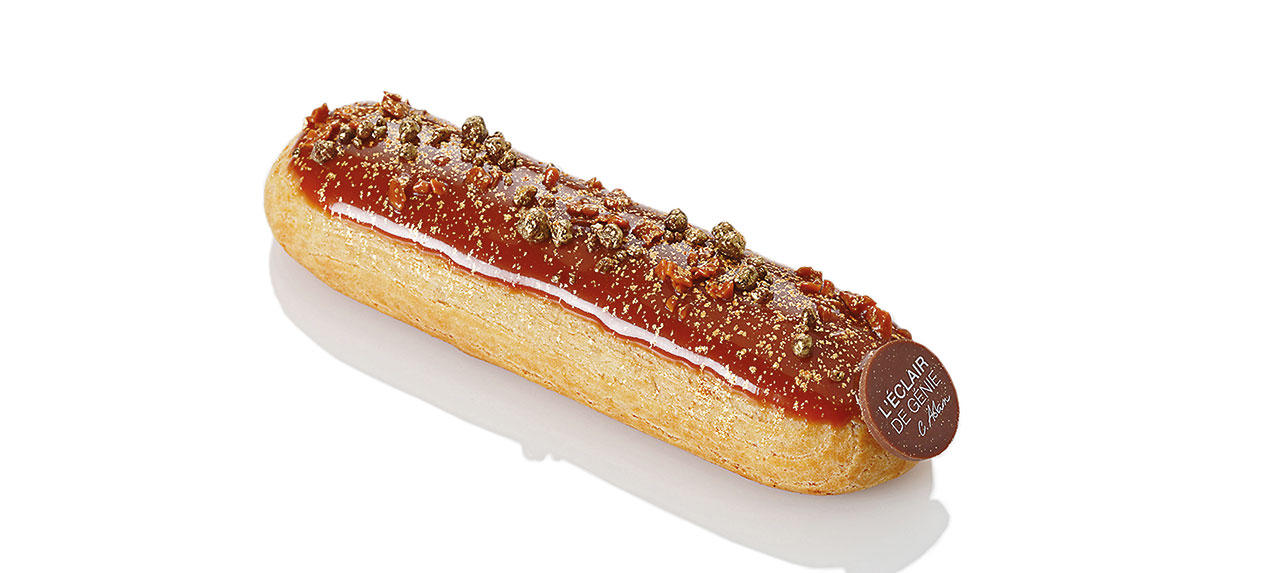 250g puff pastry
450g caramel cream
350g caramel-fondant
10g chocolate pearls
10g chocolate fine granules
QS bronze glittering pigment
Puff pastry
160g milk
160g water
160g unsalted butter
6g granulated sugar
4g salt
8g liquid vanilla
160g flour type55
280g whole eggs
Caramel cream
90g granulated sugar
56g unsalted butter
175g mascarpone
115g whipping cream 35% fat
1g gelatin powder
7g water
A pinch of sea salt
Caramel-fondant
30g granulated sugar
55g whipping cream 35% fat
20g glucose
5g slightly salted butter
240g white fondant
Puff pastry
1. Heat up the milk, water, salt, butter, sugar and liquid vanilla together. When boiling, add the flour all at once and, off the heat, stir vigorously with a spatula until the dough comes away from the sides.
2. With a flat whisk, 'emulsify' this dough by pouring in the eggs gradually. The result should be smooth and homogeneous.
3. Poach the 11cm-long eclairs.
4. For baking in deck oven: 185°C at the floor and 165°C at the vault. 20 mins exhaust closed, then 30 mins exhaust opened. If baking in convection oven: switch on the oven to 250°C, turn it off, then bake the eclairs. Switch on the oven to 160° when the choux pastry has puffed (between 12 and 16 mins).
Caramel cream
1. Place the gelatin into water for at least 5 mins.
2. Cook the granulated sugar until a brown caramel.
3. Deglaze the pan with hot cream. Add butter and sea salt. Cool to 50°C, then add gelatin.
4. Gradually pour the caramel to 45°C on the mascarpone and blend with whisk.
5. Pour into a bowl. Leave for at least 2 hours in the fridge before final arrangement.
Caramel-fondant
1. Cook sugar and glucose into brown caramel.
2. Deglaze the pan with hot cream. Bake at 109°C. Add salted butter and blend. Pour into a bowl and allow to cool down.
3. Blend the caramel while still warm into the fondant slightly heated up with a spatula.
Process steps and presentation
1. Start with caramel cream. Refrigerate.
2. Make puff pastry, shape the 11 cm-long eclairs with a pastry bag, bake them.
3. Make caramel fondant. Set aside.
4. In a closed container, put chocolate pearls and granules and bronze glittering pigment. Shake to homogeneously 'coat' the pearls with the powder.
5. Fill the eclair with caramel cream, then dip into the caramel fondant heating it up until it reaches the correct fluidity. Sprinkle immediately with bronze chocolate pearls and granules.