GRILLED FLANK STEAK
& CHERRY TOMATO SALSA
Serves 2 | Preparation/Cooking time 60 mins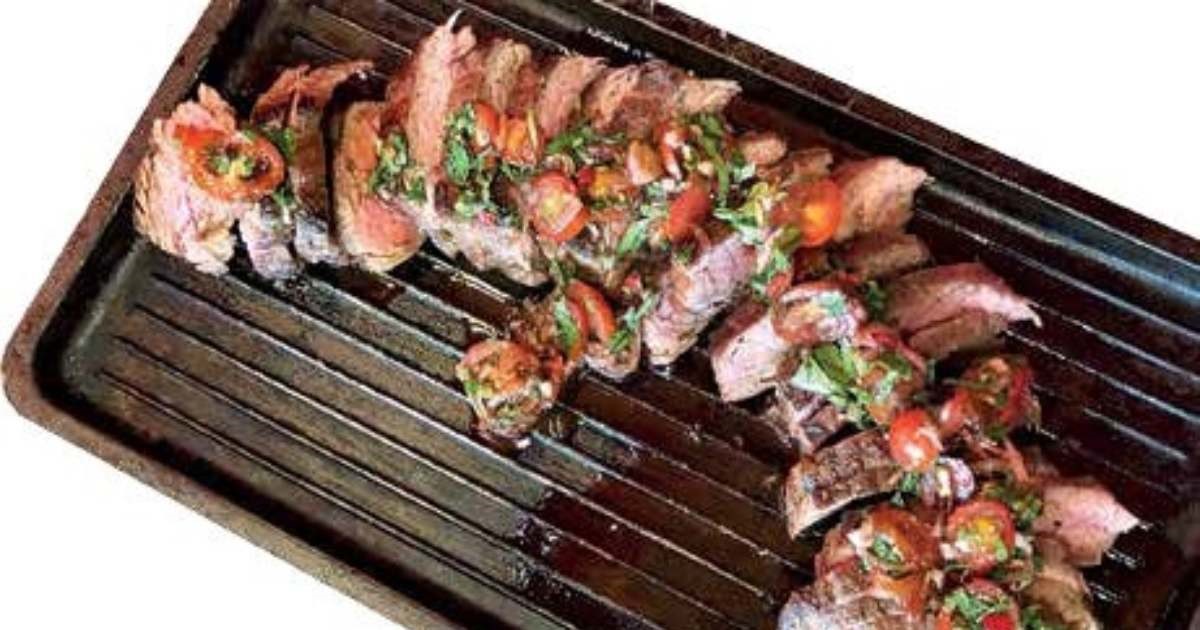 This recipe is developed for a whole U.S. Beef Flank Steak,
about 1.00kg or about 2.20lbs.
Steak Seasoning
• 1kg U.S. Beef Flank Steak
• 1 Tbsp Olive Oil
• 1 tsp Coarse Sea Salt
• ½ tsp Black Pepper
Cherry Tomato Salsa
• 1 tsp Fine Salt
• 1 Cup Cherry Tomatoes (sliced)
• ¼ Cup White Onions (fine dice)
• 1 Hot Pepper (fine dice)
• ¼ Cup Parsley (chopped)
• ¼ Cup Olive Oil
• 2 Tbsp Red Wine Vinegar
The Steak
1. Coat the steak with Olive Oil, then season it well with Salt and Pepper. Set aside until ready to cook;
2. Heat a cast iron pan (or grill), then grill the Flank Steak for 5 minutes per side. Remove from heat and loosely cover to rest for about 5 minutes.
3. Plate and carve against the grain, and top with Cherry  Tomato Salsa.
Cherry Tomato Salsa
1. Slice Cherry Tomatoes in half while being careful not to crush them.
2. Small dice the Onions, Hot Peppers and chop Parsley.
3. Transfer the fresh chopped vegetables into a mixing bowl and add Olive Oil, Red Wine Vinegar and Salt. Mix well and set aside until ready to serve.