GRILLED LANGOUSTINES WITH 3 TEXTURES OF RED APPLE
Serves 4  | Preparation/Cooking time 45 mins
3 pieces langoustine
3 flower shapes compressed apple
20 g avocado puree
15 g apple jelly
3 slices Washington Red Delicious apple
30 g apple and citrus dressing
4 g microgreens
2 g salt
1 g pepper
Compressed apple
200 g Washington Red Delicious apple
150 g beetroot juice
150 g apple juice
1 piece star anise
1 stick cinnamon
Pinch salt
Pinch black pepper
Avocado puree
100 g avocado
10 g lemon juice
Pinch salt
Apple Jelly
200 g apple juice
25 g verjus
Orange zest
2 g agar agar
1 g xanthan gum
2 g salt
5 g sugar
Apple and citrus vinaigrette
100 g apple juice
30 g lemon
10 g yuzu juice
20 g olive oil
2 g salt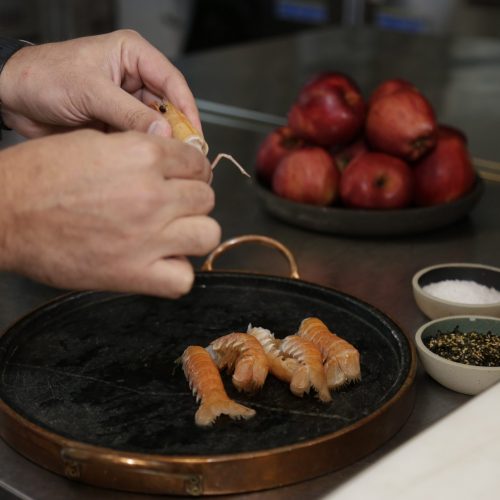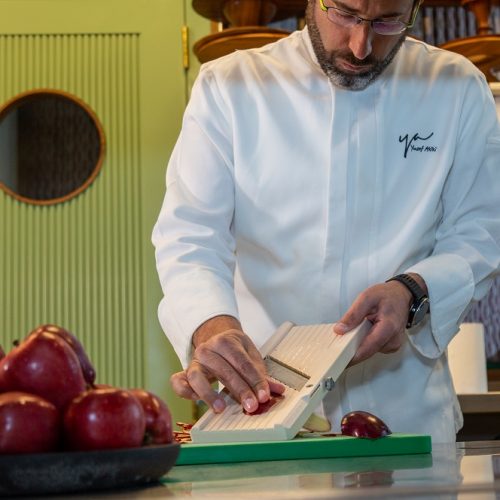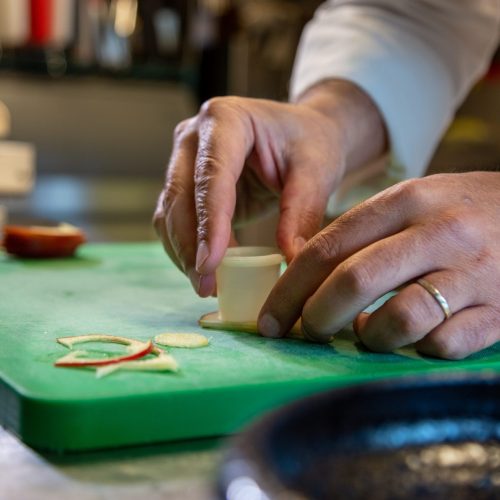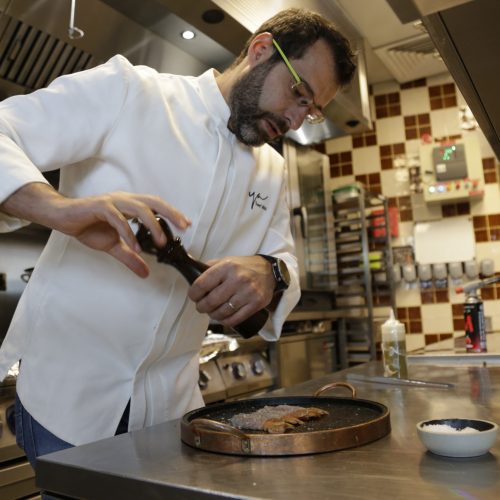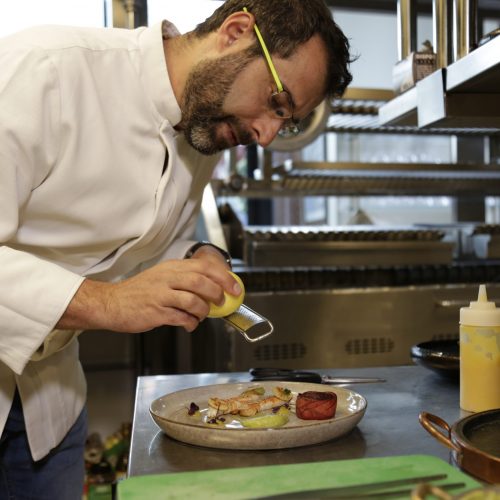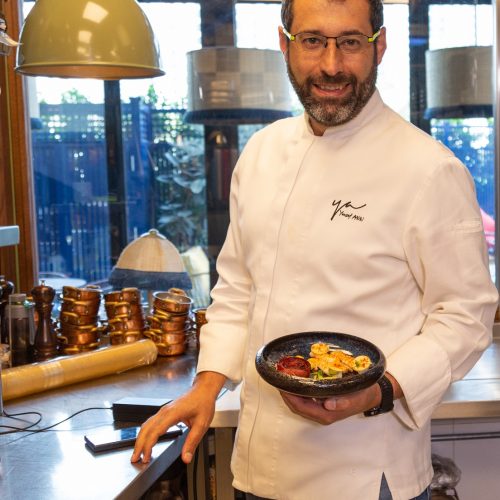 Compressed apple
Cut the apples into thin slices with a mandolin. Shape it into a flower form in a mold & set it aside.
In a saucepan add the beetroot juice, apple juice, and the spices and simmer.
Drain the juice and pour it on the apple flowers and let it cool.
Avocado puree
Scoop the avocado flesh, add the lemon juice, salt, and mix using a hand blender.
Pass the puree through a fine mesh.
Reserve in a squeeze bottle.
Apple Jelly
Heat 100g of organic cloudy apple juice until boiling.
Add the xanthan gum, agar-agar, sugar, salt, and blend using a hand mixer.
Add the remaining quantity of apple juice and allow it to cool for at least 6 hours.
Once the mixture has set, blend to obtain a smooth jelly. Reserve in a squeeze bottle.
Apple and citrus vinaigrette
Juice fresh apples and strain to obtain 100g.
In a mixing bowl, whisk the apple juice, lemon juice, yuzu juice, and salt.
Whisk in the olive oil slowly. Set aside.
Grilled langoustines with three textures of red apples
Clean and peel the langoustines.
Put the flower shape apple on the side of the dish.
Season the langoustines with salt & pepper & grill on medium to high heat with olive oil.
Grill 1 minute on each side.
While still hot season the langoustines with the apple and citrus dressing.
Place the langoustines on the plate, and add random dots of apple jelly and avocado mousse.
Place the raw apple slice on the langoustine.
Drizzle lightly the remaining dressing.
Garnish with microgreens.
OTHER RECIPES BY WASHINGTON APPLES