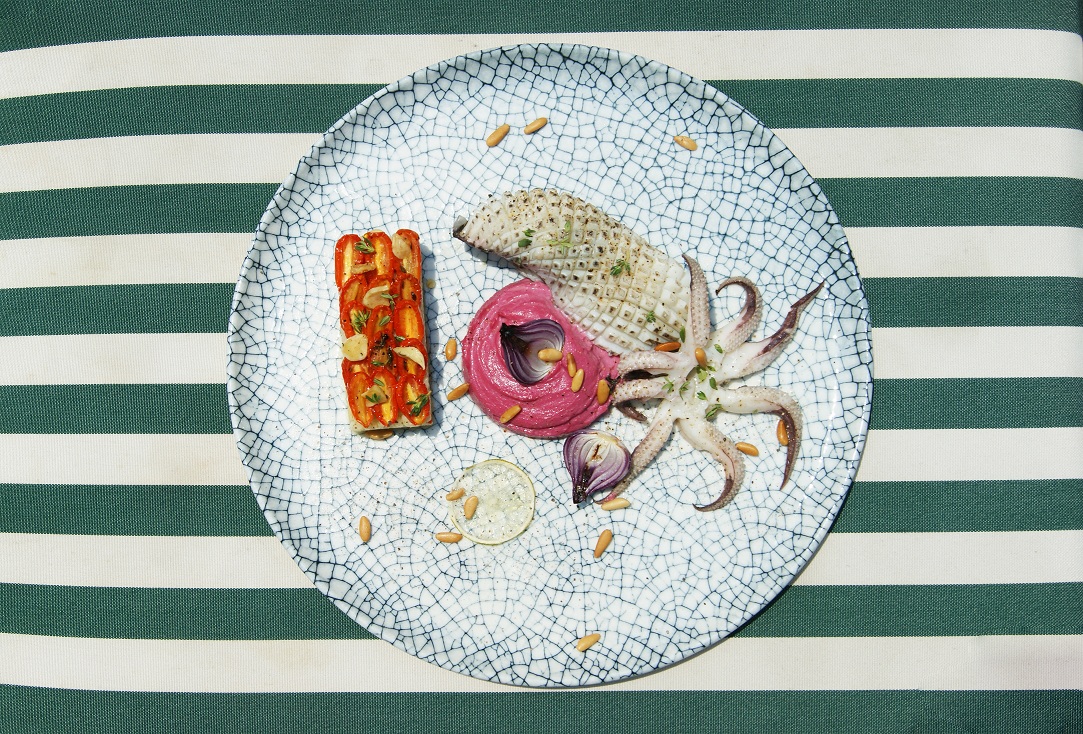 500g fresh local squid
250g burghul (crushed wheat)
80g cherry tomato
100g tahini
220g onion
30ml olive oil
10g garlic
15ml marmalade juice
40g beetroot
2g salt
1g sweet pepper
5g cinnamon
5 pine seeds
Peel the squid, remove the bones and put in heat with boiling water, add vinegar, salt and lemon for 20 minutes. Cool down in cold water and then grill with garlic and olive oil for 5 minutes.
For the crushed wheat, soak in water and strain.
Sauté the onions in olive oil and add the crushed wheat. Mix well and add sundried tomatoes, salt, black sweet pepper and cinnamon; add water over the burghul then cook slowly for 15 minutes till the water evaporates.
For the tajen, sauté the onions in olive oil with garlic. Prepare the taratore aside by mixing the tahini, lemon juice, water, raw beetroot juice and marmalade juice till the mixture is liquid. Put the mixture into the pot, boil slowly for 20 minutes till the oil from the mixture flows on the top.
For presentation, spread the tajen in a plate, then put the grilled calamari on top and garnish with pine seeds.
CHEF'S TIPS
Squid is tricky because there are only two ways that it's good: either cooked for just a couple minutes so that it's still tender, or slow-cooked for at least 30 minutes, which will return it to tenderness. This is why you have to take two important steps:  First, you have to thoroughly pat the squid dry to remove as much surface moisture as possible, and only then rub it with oil to prevent it from sticking to the grill. Second, you need to cook the squid over hot coals. This is all about intense direct heat: The hotter the grill, the faster it will drive off surface moisture and sear the squid, all before the squid loses its tender texture.