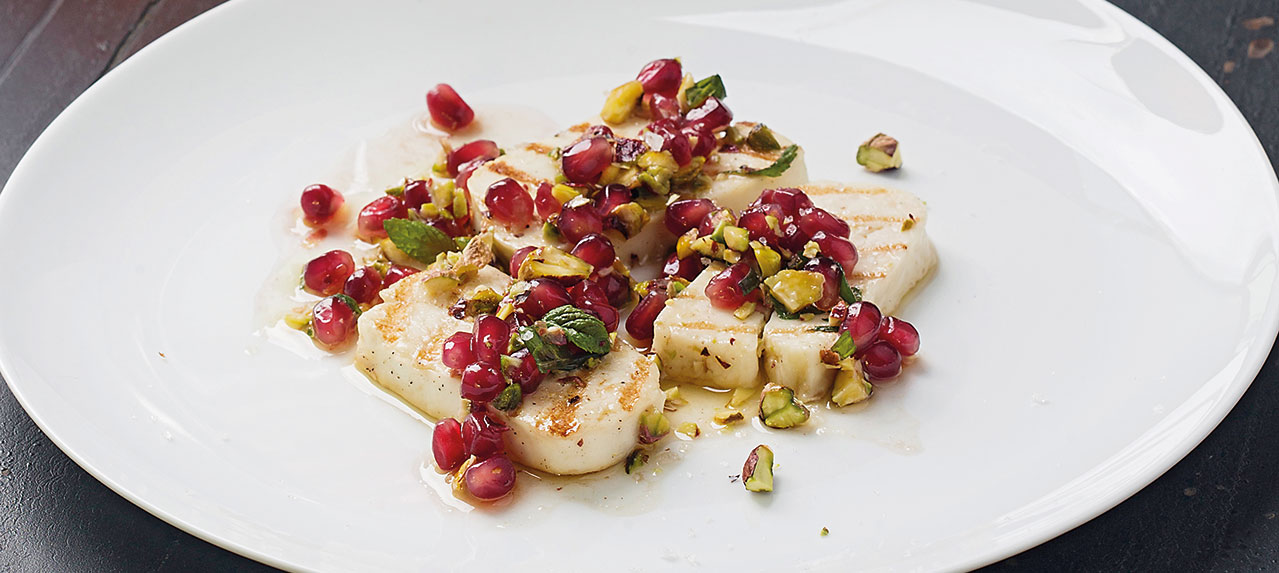 500g halloumi cheese (2 packs), soaked in renewed fresh water to remove saltiness
Extra Virgin olive oil
Honey
Salt and freshly ground black pepper
Pomegranate pistachio salsa
Seeds of 1 pomegranate
½ cup shelled pistachios,
roughly chopped
¼ cup apple cider vinegar
¼ cup Extra Virgin olive oil
One large handful of fresh mint,
roughly chopped
Salt and freshly ground black pepper
1. Cut halloumi into thick slices, place in a shallow dish. Drizzle liberally with honey and olive oil so that slices are well coated. Season with salt and pepper. Refrigerate the cheese for an hour or more.
2. Preheat grill or grill pan and grill 2-3 minutes on each side, or until golden and crisp from the outside. Set aside at room temperature.
3. For the pomegranate pistachio salsa, in a bowl combine pomegranate seeds, pistachios, vinegar, olive oil, parsley, and a pinch of salt and pepper. Mix well. Taste and adjust seasoning if necessary. Refrigerate.
4. When ready to serve, top grilled halloumi with large spoonfuls of salsa and serve.