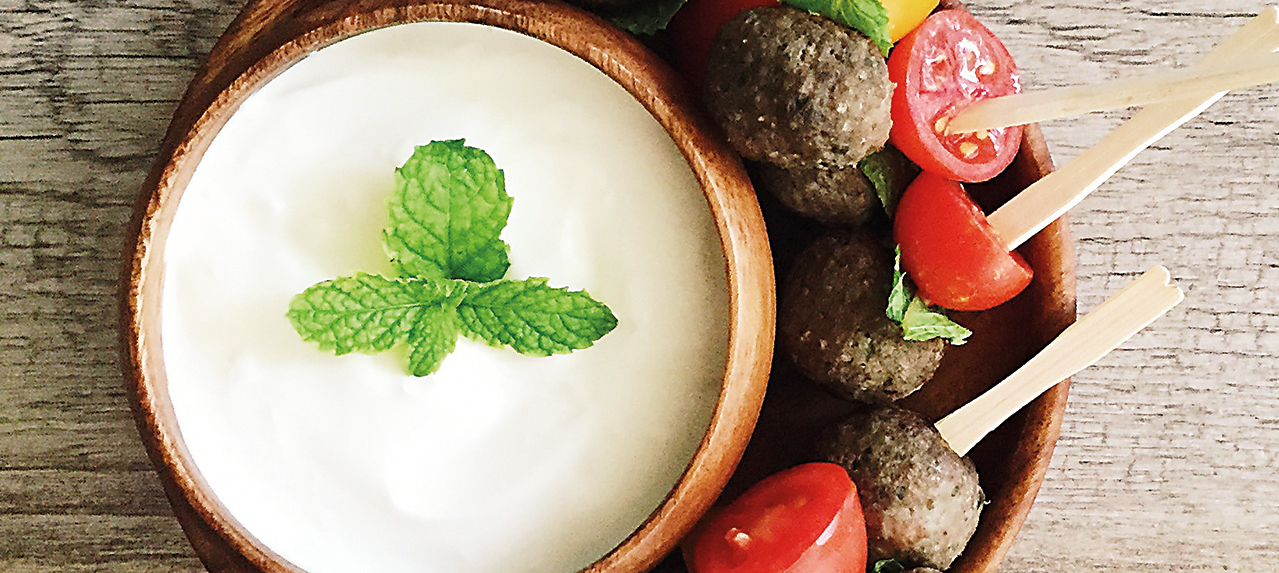 Kafta
500g ground beef
250g ground lamb
½ bunch fresh flat leaf parsley
¾ cup roughly chopped white onion
2 slices of white sandwich bread
1 ½ tsp salt
¾ tsp ground allspice
Dip
½ cup labneh
1 garlic clove, crushed
Salt
40 fresh mint leaves
20 cherry tomatoes, halved
1. In a big mixing bowl, put the ground beef and the ground lamb. Set aside.
2. In the bowl of a food processor, put the diced onions with 1½ teaspoons of salt and ¾ teaspoon of allspice and process until finely chopped. Add the parsley a little bit at a time, and process each time until completely blended. Add the bread, one slice at a time and process until everything seems well blended.
3. Pour this mixture over the ground meats, put your gloves on and mix well until the onion/parsley mixture and the ground meat are mixed homogeneously.
4. Heat the oven to 200°C. Form small meatballs of kafta and place them on two baking sheets lined with aluminum foil. Bake in a hot oven for around 20 to 25 minutes until completely cooked through. Lightly shake the baking sheets so that the kafta meatballs don't get crusty on one side but cook evenly.
5. Meanwhile, mix the labneh with the garlic and season with salt. Cover and keep refrigerated.
6. Once the kafta is ready, let it drain for a few minutes on a plate lined with paper towel. Assemble the skewers combining one small meatball with one mint leave and a halved cherry tomato. Serve with the labneh dip.