MANGO AND PASSION FRUIT JELLY
Serves 8 | Preparation Time 1h 15mins | Cooking Time 10mins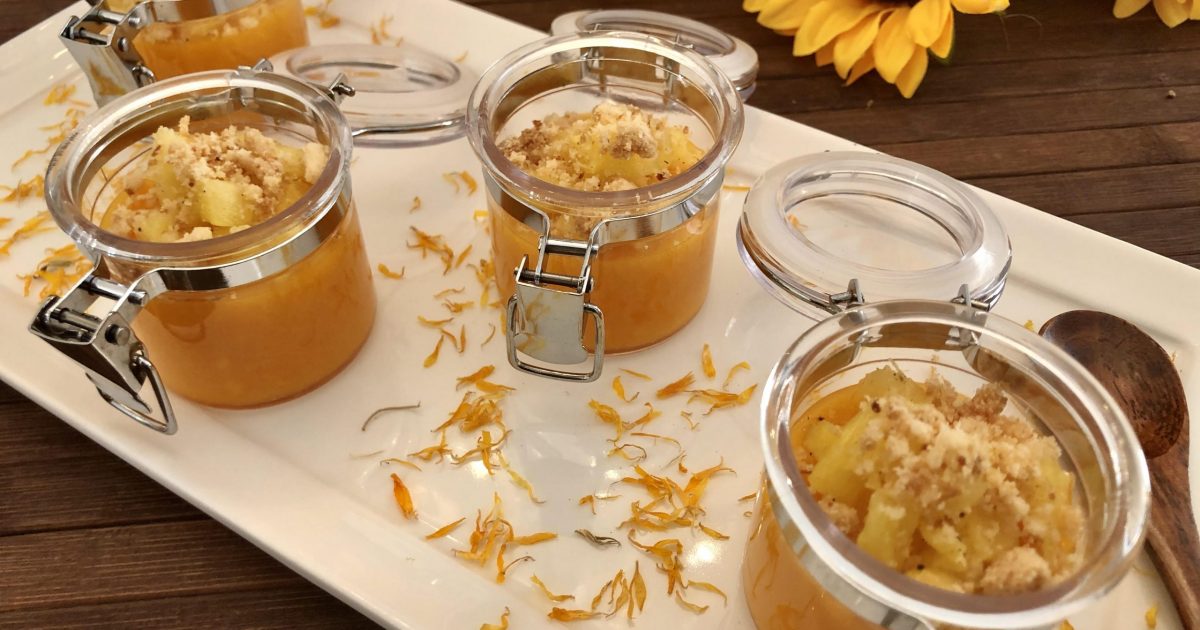 Mango jelly
• 200g mango pulp
• 100g passion fruit pulp (you can use only mango)
• 70g sugar
• 8g gelatin dissolved in 48g of water
Caramelized pineapple
• ½ pineapple
• 1 tbs butter
• ¼ cup sugar
• vanilla
Coconut crumble
• 50g sugar
• 50g butter
• 50g flour
• 30g shredded coconut
• 20g almond powder
Mango jelly
Blend the mango and the passion fruit pulp in the mixer.
Add the sugar and mix well.
Thaw the presoaked gelatin in the microwave and add it to the fruit purees.
Pass through the sieve and pour in small cups.
Refrigerate for 2h.
Caramelized pineapple
Cut the pineapple into small chunks. Cook them with the melted butter, the sugar and the vanilla until well caramelized.
Coconut crumble
Mix the sugar with the butter and add the rest of the ingredients, blend until it resembles coarse meal.
Chill for half an hour in the fridge.
Bake at 180˚c until golden.