Serves 10-12 | Preparation 1 hr Baking/rest time 1 h 30 mins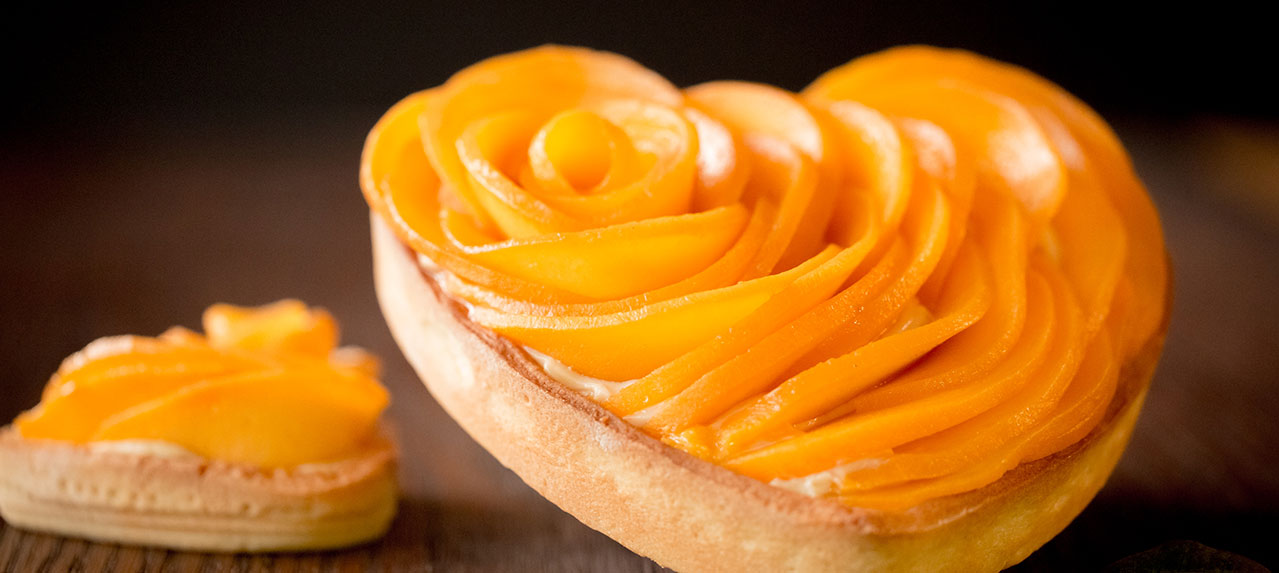 250 gr all-purpose flour
125 gr unsalted butter
80 gr powdered sugar
1 egg yolk+ milk
A pinch of salt
500 ml milk
50 gr cornstarch
6 egg yolks
130 gr powdered sugar
1 vanilla pod
50 gr unsalted butter
2 medium mangos
3 tablespoons apricot jam
2 tablespoons water
1. Cut the butter into small cubes and keep it at room temperature.
2. Process the butter in a food processor until creamy.
3. Sift the flour in a separate bowl and add the powdered sugar and the salt.
4. Add the flour mixture to the butter and pulse until the mixture becomes crumbly.
5. Add the egg yolk and a bit of milk and mix again until dough is no longer dry and starts to clump together.
6. Assemble the dough and form a ball in a lightly floured surface. Wrap with plastic wrap and refrigerate for at least 1 hour.
7. Preheat the oven to 180°C.
8. Grease and flour a heart shaped tart pan (preferably with removable bottom).
9. On a lightly floured surface, roll the dough, and move it gently to the tart pan. With a sharp knife, trim the edges and remove all the dough excess. Refrigerate for 30 min.
10. Place the pan on middle rack of oven and bake for 30 min until golden brown. Remove from the oven and let it cool.
11. For the pastry cream, whisk the milk, cornstarch and 60 g of sugar in a thick bottom saucepan. split the vanilla pod in half lengthwise and scrape the seeds with the tip of a knife. add them to the milk with the pod and heat to simmering.
12. In another bowl whisk the egg yolks with the remaining sugar. Continuously whisking, very slowly, pour the hot milk into the yolk mixture and whisk until fully combined. Transfer the mixture to a saucepan and cook on medium heat while whisking constantly until the mixture begins to thicken, then remove immediately from heat. Place the pan in cold water. Remove the vanilla pod. When the cream has cooled a little (to 60 C), stir in the butter and whisk until the butter is fully inserted and the cream is bright and shiny. Cover the pastry cream and let it cool.
13. Peel the mangos and cut them into thin slices. Layer the cooled pastry cream on the baked crust. Decorate with mango slices following the picture. Put the apricot jam and water in a small bowl and microwave until well dissolved, then brush gently the mango tart.