MILLE-FEUILLE VANILLA TONK CARAMEL
Serves 6 | Prep/baking time 1h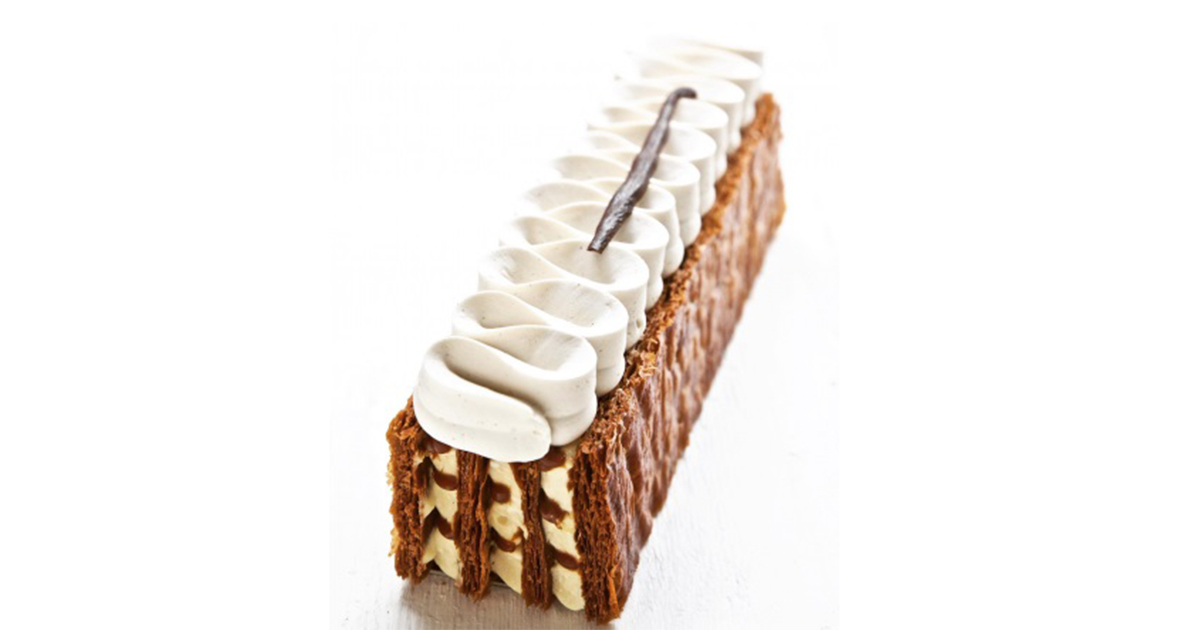 • 1 packet pâte feuilletée chantilly
• 480g heavy cream
• 2 vanilla pods
• Tonka beans
• 90g white chocolate
For the crème caramel
• 85g sugar
• 35ml heavy cream
• 25g butter
• 1g sea salt
The night before baking, heat 480ml of heavy cream with the scraped vanilla from pods and three grated tonka beans.
Pour the mixture onto 90g of white chocolate and mix together. Refrigerate for the night.
The next day, caramelize 85g of sugar.
When it turns to a golden color, add 35g of heavy cream, 25g of butter and 1g of sea salt.
Cut the pâte feuilletée into 10 x 3 cm strips.
Bake in an oven for 5 minutes or until it turns golden.
To make the crème chantilly, whisk the vanilla cream mixture until it forms soft peaks.
Pipe the crème chantilly on a pâte feuilletée strip followed by a layer of caramel. Repeat the process and top with a layer of pâte feuilletée.
Turn the millefeuille on its side and pipe the remaining crème chantilly with a St Honoré tip.
Decorate with a dry vanilla bean.
GET TO KNOW CHRISTOPHE MICHALAK