MOGHRABIEH PAELLA WITH CHICKEN AND SEAFOOD
Serves 4 | Prep/cooking time 30 mins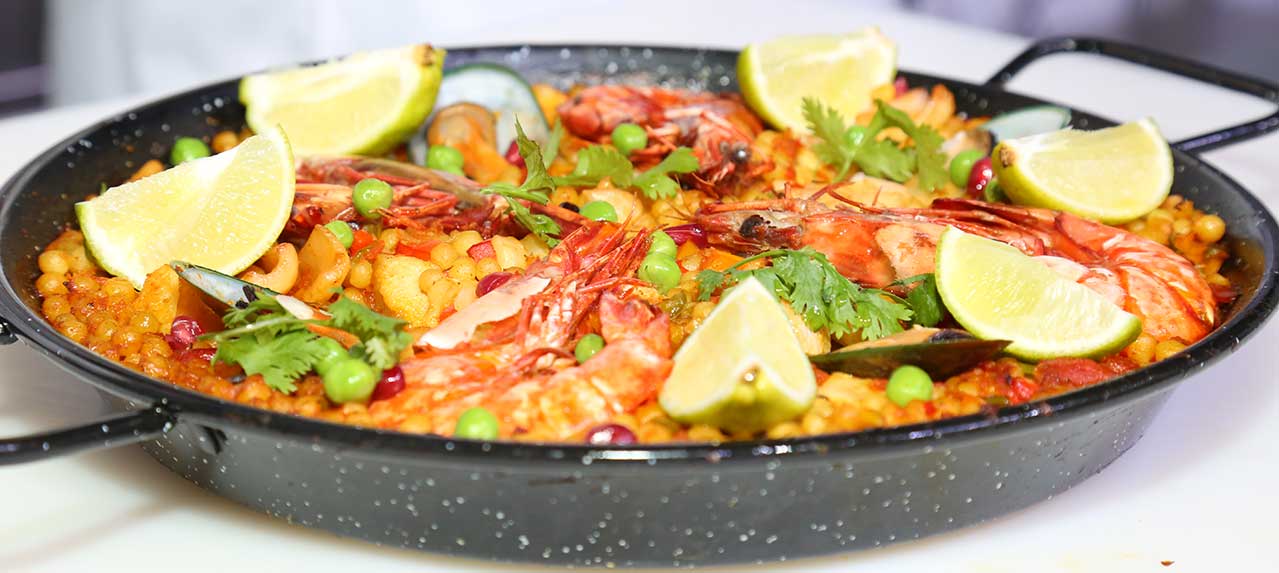 300g Moghrabieh
700ml Chicken Stock
300g Chicken breast
1g Saffron
2g Paprika
100g Squid
100g Mussels with shell
185g Mix Bell peppers diced (different color)
15g Octopus
120g Tiger shrimps (4 pcs)
100g Monkfish
220g Tomato grated
75g Onions
2.5g Garlic
20g Green peas
20g Pomegranate seed
2g Coriander
1g Thyme
10 cl Olive Oil
Salt
Pepper
1. In a paella pan over low heat, heat the olive oil and color the chicken breast.
2. Remove the chicken and keep it on the side.
3. In the same oil, sauté the onion, add the moghrabieh until brown color.
4. Add bell peppers, garlic, grated tomato. Stir again. Pour the broth. Boil, add spices and herbs.
5. Add the chicken on the moghrabieh and cook the paella on low heat for 5 minutes.
6. Add the shrimp, squid, octopus, Monkfish.
7. Cover the paella with aluminum foil.
8. Bake the paella in a preheated oven at 160ºc for 15 to 20 minutes. Take the paella out of the oven; let it stand for 5 minutes before serving it.
To serve: Lemon wedges, Chopped coriander, green peas, pomegranate seed, olive oil