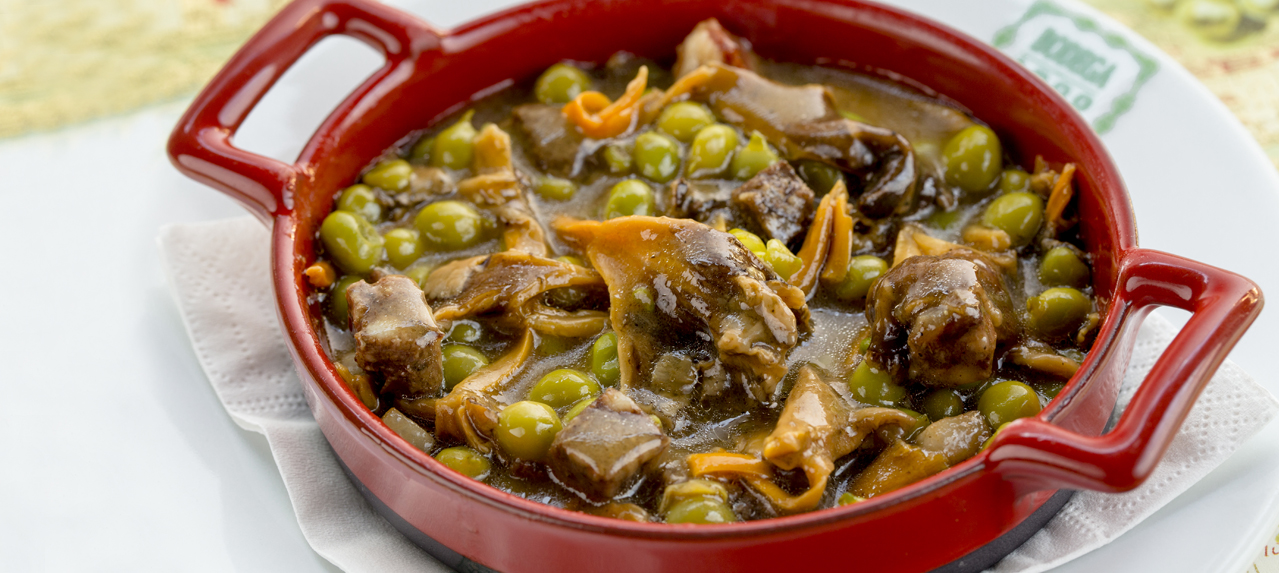 • 500g small peas
Sofrito
• 75g peeled dry garlic
• 2000g finely chopped onions
• 250g olive oil 0.4
• 400g fresh tomato
• 100g crushed tomato
• ½ sprig thyme
• ½ sprig rosemary
• 1 bay leaf
• Fine salt to taste
• 1L water
Mushroom broth
• 1kg mushrooms
• 1L mineral water
• 15g oil 0'4º
• 2g salt
Garlic oil
• 200g garlic
• 300g oil 0'4º
Pilpil of mushrooms
• 300g mushroom broth (previously explained)
• 30g garlic oil (previously explained)
• 0.33g xanthan
• Fine salt
Sofrito of peas and mushrooms
• 30g oil 0'4º
• 75g pork bacon
• 100g black butifarra (black sausage)
• 60g sofrito (previously explained)
• 500g chanterelles mushrooms
• 500g fresh peas
• 300g pilpil of mushrooms
(previously explained)
• Fine salt
• Peppercorns
• Mineral water
Sofrito
1. Finely slice the garlic and sauté with 200g of oil on low fire without coloring. Add the onion, thyme, rosemary, bay leaf and leave for 30 minutes on low heat until the onions are a golden color.
2. Peel the fresh tomatoes; remove the peduncle and cut into 1cm cubes and add to the onions. Leave on the heat until it begins to soften. Add the crushed tomatoes and cook for 30 minutes.
Mushroom Broth
1. Heat a pot with the oil. Wait for it to warm well and add the chopped mushrooms. Let them absorb their own juice.
2. Add mineral water to the mushroom broth and allow to boil for about 20 minutes.
Garlic Oil
1. Crush or chop the garlic. Heat the oil and add the garlic.
2. Remove from the heat and once cooled, remove the garlic. Reserve the oil.
Pilpil of Mushrooms
Grind the ingredients, season and strain.
Sofrito of Peas and Mushrooms
1. Heat the oil in a frying pan. Lightly fry the bacon. Add the sofrito and stir; try not to reduce much. Add the black sausage and fry lightly.
2. Sauté the mushrooms with their juice to the stew and reserve the water. Add the mushrooms to the stew with their juice and also add the peas. Stir for 2 minutes and add the pilpil of mushrooms.
3. Boil for about 2 or 3 minutes, depending on the size of the peas. Cool the same saucepan with water and ice to stop cooking if necessary.