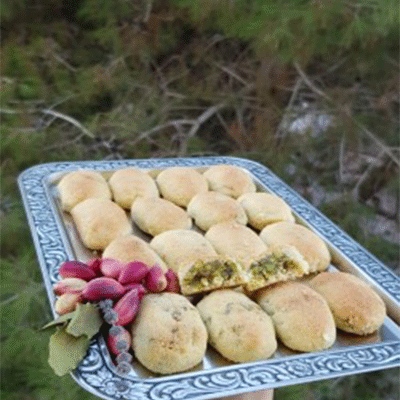 Dough
1000 g semolina
250 g fine semolina
150 g icing sugar
2 tbsp maamoul spices
500 g butter
4 tbsp orange blossom water
Filling
300 g ground pistachios
3 tbsp icing sugar
2 tsp Cardamom
8 tbsp rosewater and orange blossom
Mix the dough ingredients, and set aside for 30 minutes.
Mix the filling ingredients and roll into equally small sized balls.
In the palm of your hand, press and pat each ball of dough into a 2 3/4-inch round. Place a rounded teaspoon of filling in the center of each round and draw the edges up and around the filling. Pinch the dough together to make a sealed ball, and then carefully roll the maamoul between your palms to make a smooth round ball. Use the maamoul mold to give the appropriate shape. Repeat with the remaining dough and filling.
Preheat the oven to 18O°C, bake the maamoul until firm and slightly puffed, and the tops are pale but the bottoms are just beginning to turn slightly golden, about 12 to 15 minutes.