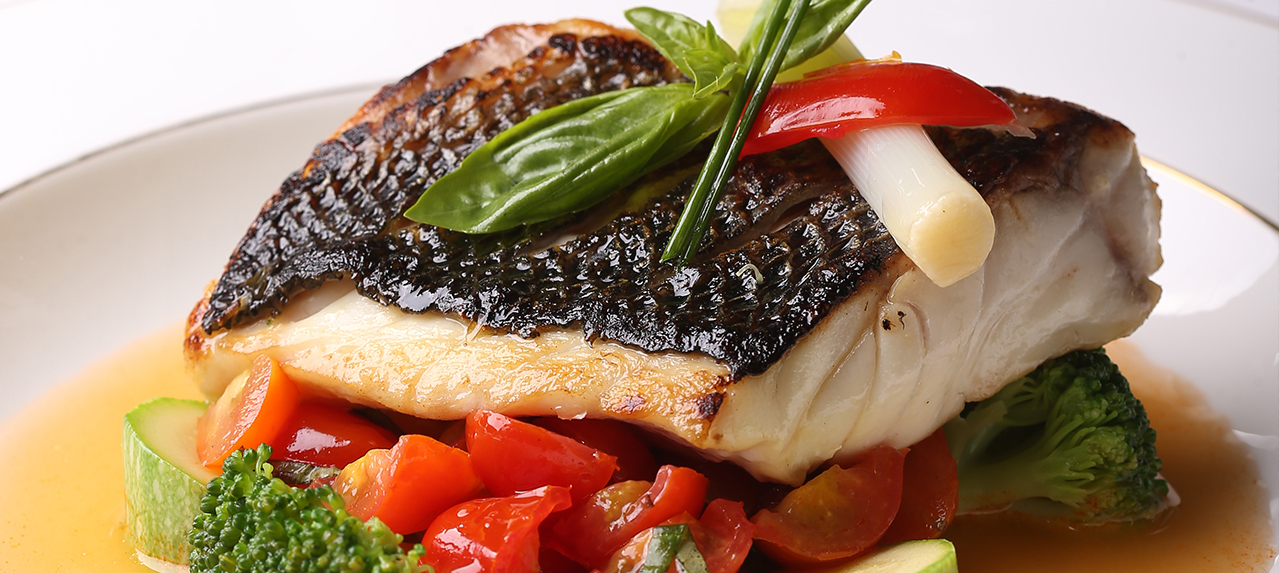 • 600g sea bass
• 4 big tomatoes
• 1 large onion
• 4 cloves garlic
• 1 small bunch rosemary
• 1 small bunch thyme
• Quart of water
• 8 pieces broccoli
• 8 pieces zucchini
• 4 spring onions
• 12 black olives "Taggiasche"
• 1 crushed tomato
• 4 strands of basil to garnish
1. Wash, peel and cut the sea bass into portions of about 7cm wide. Season with salt and pepper.
2. To create the "Acqua Pazza"(crazy water), cut the onion into thin strips and brown in a pan with olive oil, garlic and coarsely chopped tomatoes. Add the thyme, rosemary, water, salt and pepper and simmer over medium heat. Stir frequently.
3. When cooked pass it through the mixer and then strain through a cheesecloth.
4. In a saucepan, pour two ladles of "Acqua Pazza", and add the sea bass fillets; cover and cook for about 8 minutes. Halfway through cooking, add the zucchini, broccoli, crushed tomato, spring onions and olives.
Cook and adjust salt and pepper to the taste.
5. To prepare the dish, arrange the vegetables on the bottom of the plate. Place the fish on top of the vegetables and cover it with the "Acqua Pazza". Garnish with basil and serve hot.