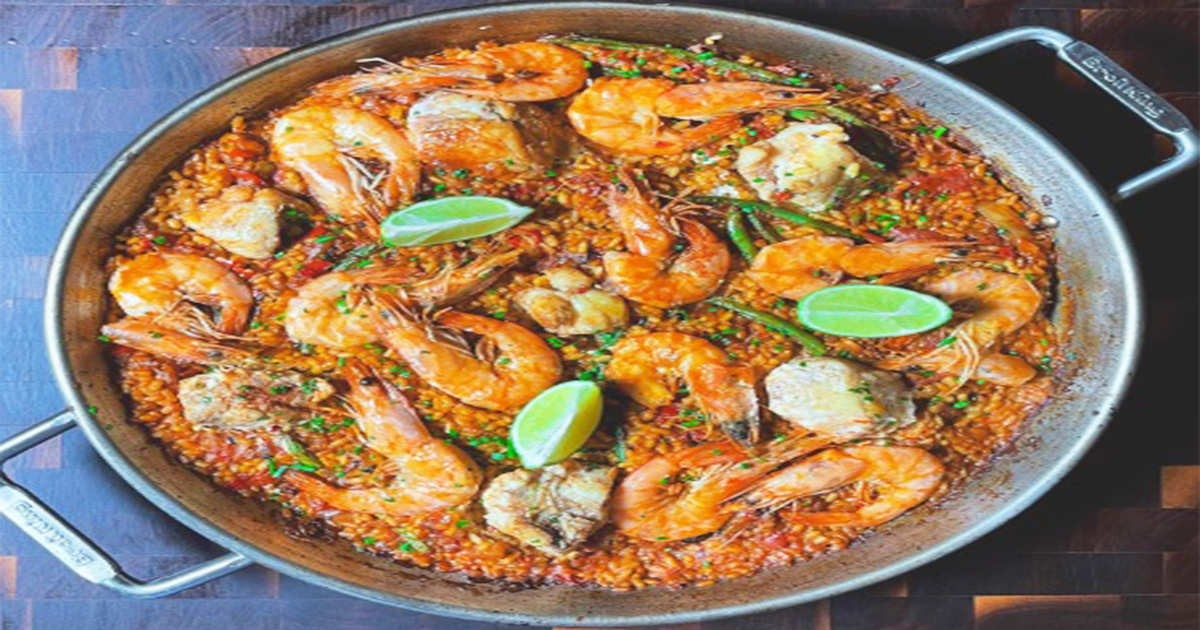 Monkfish and prawns paella: 300 g monkfish cubed + 300 g whole prawns
2 cups Bomba rice
Saffron thread
2-3 tsp smoked paprika
French beans
Salt
Pepper
Lime wedges
3-4 tbsps. grated tomatoes
Tbsp tomato puree
White onion minced
Red Bell pepper minced
6 cups and little more seafood stock (Fish bones+prawns head and shells: carrot onions bay leave, 1:5 L water cooked for 45 min)
Sear the prawns and fish for seconds with salt and paprika, remove.
Saute onions and peppers until soften (in the same pan), add the tomatoes and puree and keep the heat low and stir for 15 min.
Add the rice coating everything then the stock and shake to spread it and keep the the heat low. Don't touch it, when the water almost evaporated add the fish back and prawns and cover to cook on steam.
When the rice is fully cooked turn the heat high for 2-3 min, then keep it covered and let it rest for 10min.
Garnish with chives.
CHEF'S TIPS
Use Bomba rice or any of its varieties (Senia, Albufera).
 Work on your broth/stock first- remember the rice absorbs 3 times its size; good stock = tasty paella.
 Low and slow don't rush it.
Rice to water to pan size ratio is crucial. 15inch pan = 2cups rice= 6 cups stock or a little more
Quality ingredients = quality paella.
Have a relationship with the fire and heat, keep watching it, feel it, you'll know when to stop.
Rest your paella 10 min before serving.