Serves 5 persons | Preparation time 80 mins | cooking time 10 mins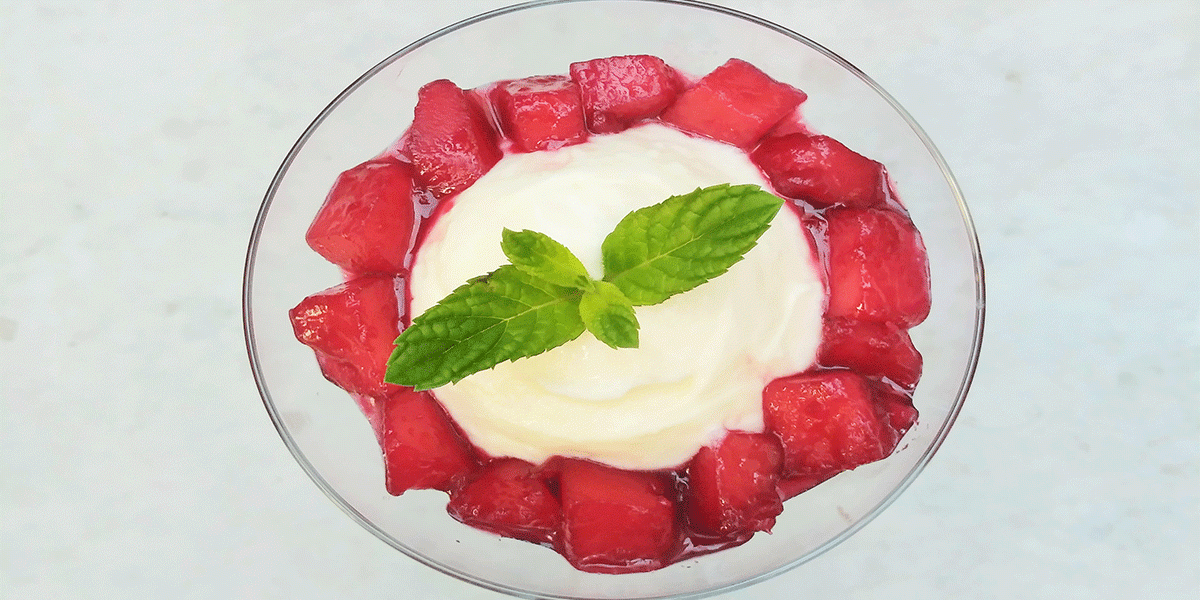 For the Quince Ashtalieh
• 900 g pomegranate juice
• 170 g orange juice
• 1 pc of star anise
• 0.5 vanilla stick
• 600 g quince (15 quarters)
• 1 portion of ashtalie
• Mint leaves for decoration
For 1 portion of Ashtalieh
• 135.4 g of water
• 28.6 g of fresh cream
• 17 g of milk powder
• 13 g of cornflour
• 0.2 g of musk
• 5.6 g of white sugar
• 3.2 g orange blossomwater
• 3 g of rose water
Ashtalieh
1. Mix the water with the milk and sugar. Set one cup of the mixture aside.
2. Add the musk and the fresh cream to the remaining portion.
3. Place on medium heat and keep mixing until they are well combined and thick.
4. Add the cornflour to the cup of milk. Set aside, then add to the mixture.
5. Leave them on the heat for 1 minute after boiling then turn off the heat.
6. Add the blossom water to the rosewater and mix well. Keep refrigerated until ready to use.
Quince Ashtalieh
1. Cut the quince and infuse in the pomegranate and orange juice, anise star and vanilla. Bring to the boil and continue boiling until mixture thickens. Set aside to cool.
2. Layer the ashtalieh and quince infusion with garnish in a cup as per the photo.
Tip: Sprinkle with some freshly cut mint for more flavor.
MORE RECIPES BY ALINE KAMAKIAN
MORE RECIPES FROM T&F HARD COPY