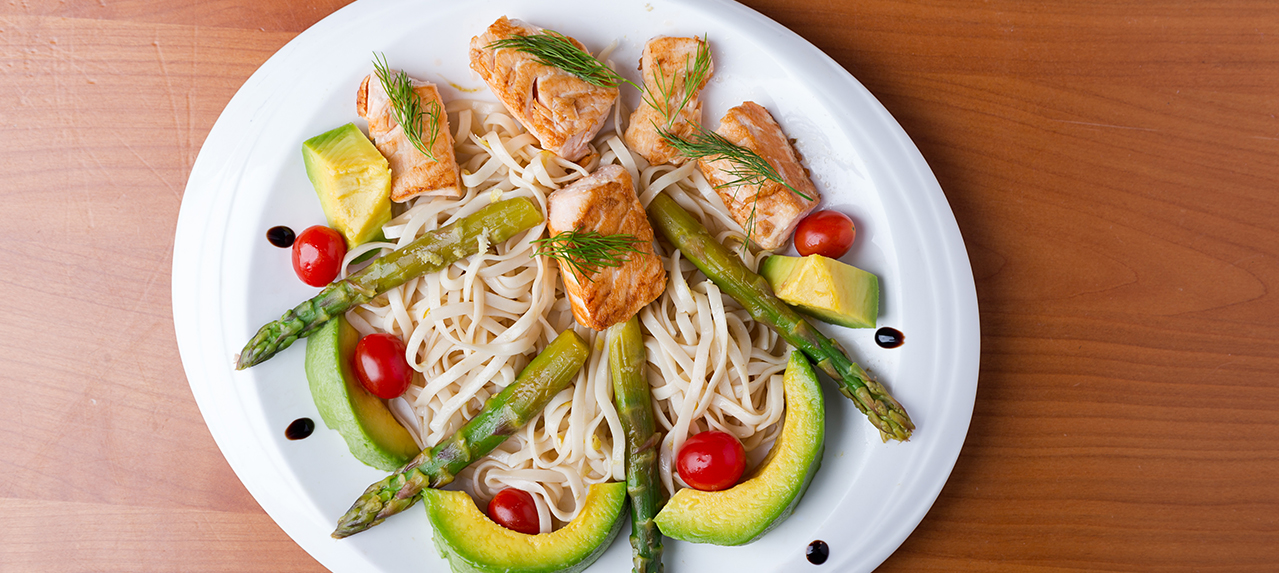 • 1 cup brown noodles
• 140g asparagus, cut in thirds
• Cooking spray
• 150g salmon fillet, skin off, cut into 6 pieces
• 1 tbsp toasted sesame oil
• Zest and juice of 1-2 limes (3 tbsp juice)
• ¼ tsp salt
• ¼ tsp fresh pepper
• 4 small cherry tomatoes
• ½ small avocado, cut into pieces
1. Cook the noodles in boiling water until soft (about 6 minutes). Transfer with tongs to a strainer.
2. Add asparagus to same boiling water. Cook until al dente (about 2 minutes); rinse under cold water.
3. Heat a grill pan over medium-high heat. Coat lightly with cooking spray. Cook the salmon until cooked through, turning pieces (about 2-3 minutes per side). Reserve.
4. Make the vinaigrette: Whisk together sesame oil, lime zest and juice, and salt and pepper in a small bowl. Combine the noodles, asparagus, and vinaigrette in a medium bowl.
5. Add the tomato and avocado; toss to coat. Just before serving, add salmon.