RACK OF LAMB WITH PISTACHIOS
Serves 2 | Marinade time 2 hours Cooking time 35 mins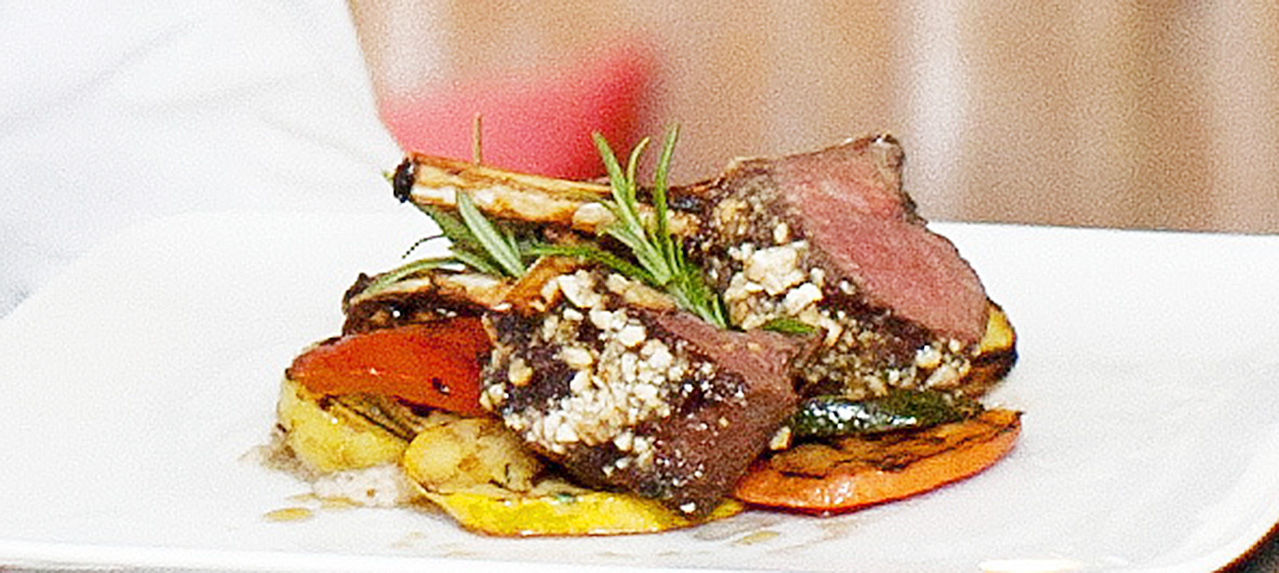 1 rack of lamb
100g salted pistachios
Marinade
2 tbsp canola oil 3 tbsp lemon juice
1 lemon zest
2 cloves of garlic
2 thick sprigs of rosemary
A pinch of salt and black pepper
Remove the skin and the fat of lamb and marinate for 3 hours
Glazing sauce
100ml lamb stock
1 tbsp jam sugar
1 tsp salt
Bring it to a boil and let it cool down to room temperature
Vegetables
30g carrots blanched
1 small courgette cut in half
1 chopped bell pepper
20g butter
1 tbsp red wine vinegar
Pinch of salt and black pepper
1. Remove the marinade from the lamb and grill it for 3 minutes from both sides giving it nice grilling marks.
2. Brush the surface with the glazing sauce and roll it in the thinly cut pistachios.
3. Bake it in the oven for 8 minutes, remove and cover for another 3 minutes with tin foil.
4. Meanwhile put the butter in the pan and sauté the vegetables for 3 minutes.
5. Put the vegetables in the middle of the plate, cut the rack of lamb and set it on top.
6. Add 2 tablespoons of the glazing sauce on top and decorate with fresh rosemary.