RASPBERRY SORBET WITH LEMON SABLE
Serves 4-5 | Preparation 30 mins Cooking 15 mins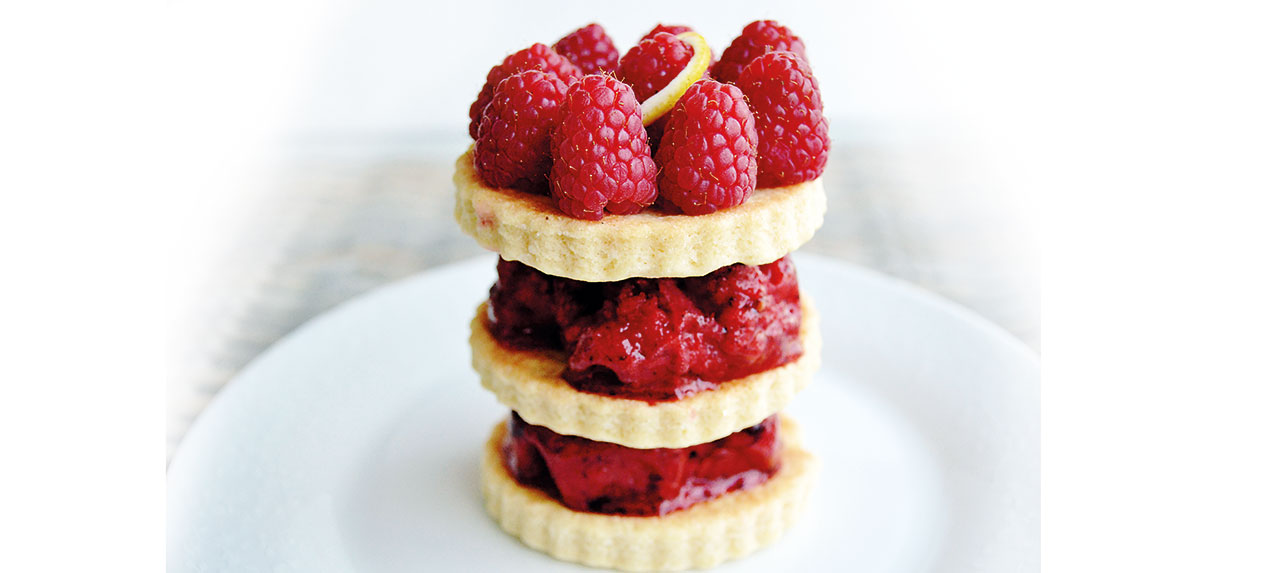 Raspberry sorbet
175g granulated sugar
250 ml water
Juice of ½ a lemon
450g raspberries
Lemon sablé
200g butter
400g flour
100g sugar
100 ml water
15g lemon zest
1. For the sorbet, combine sugar and water in a pan and bring to boil for 1 minute over a medium heat until the mixture is slightly syrupy.
2. Pour into a bowl and add the lemon juice. Let cool.
3. Mix the raspberries in a blender then add the sugar syrup and blend until you get a smooth mixture. Pour the mixture into a shallow container and put in the freezer.
4. After 2 hours take out and break up the ice crystals with a fork, then return to the freezer
for another 2 hours.
5. Continue to break up the ice every hour until the mixture is firm.
6. Move the container to the fridge 30 minutes before serving.
For the sablé
1. In a large bowl whisk the butter with sugar and lemon zest, then add the flour until crumbly.
2. Pour in the water and keep mixing until well combined. Wrap and refrigerate until chilled.
3. Spread the dough using a rolling pin and cut out 6cm circles. Bake at 180°C until light golden.
4. Transfer to a rack and let cool.