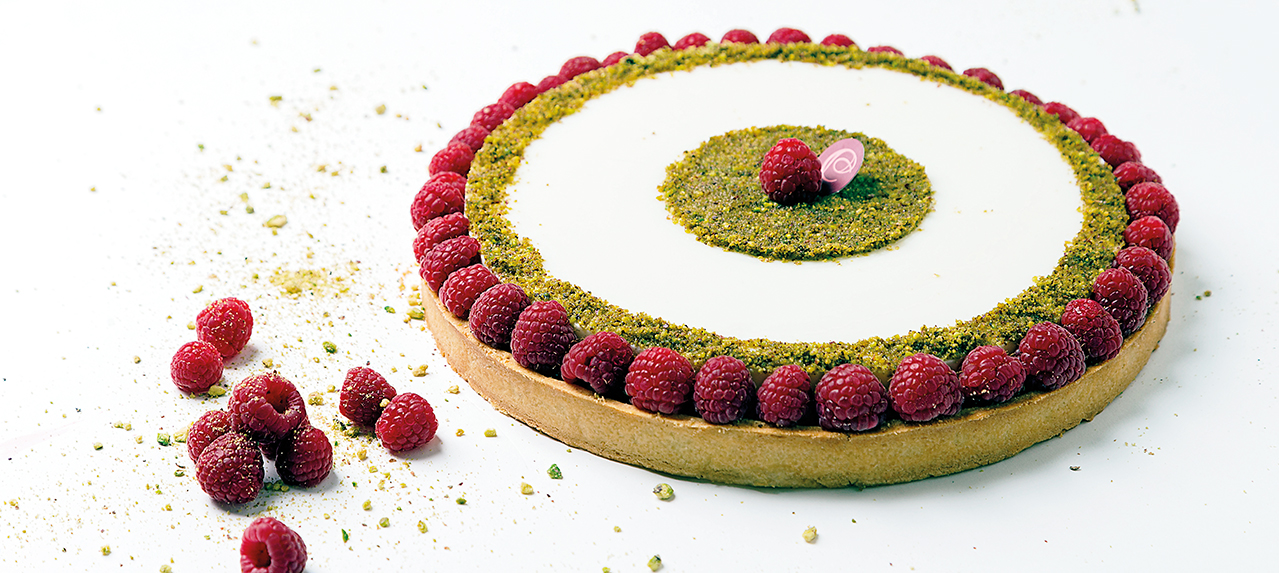 Sweet pastry dough
• 220g flour
• 130g butter
• 90g powdered sugar
• 30g ground almond
• 50g egg
• 2g salt
Mhalbiyeh
• 1 L milk
• 150g sugar
• 60g starch
• 2g meskeh
• 20g orange blossom water
Pistachio curd
• 100g ground pistachio
• 50g sugar
• 20g orange flower water
Decoration
• 1 box raspberries
• 100g ground pistachios
1. For the pastry dough, blend together flour, butter and salt in a bowl with your fingertips or a pastry blender, just until mixture resembles coarse meal with some roughly pea-size butter lumps.
2. Add the egg to the mixture and gently work it together till you have a ball of dough. Flour it lightly.
3. Don't work the pastry too much at this stage or it will become elastic and chewy, not crumbly. Flour your work surface and place the dough on top. Pat it into a flat round, flour it lightly, wrap it in Clingfilm and put it into the fridge to rest for at least half an hour.
4. Preheat your oven to 175ºC. On a lightly floured surface, roll out the pastry to the thickness of 3 mm. Carefully fold the pastry over your rolling pin, then drape it over a 26 cm loose-bottom fluted flan tin.
5. Cover the base of the tart with Clingfilm and fill it with baking beans or uncooked rice. Bake in the oven for 10 to 12 minutes or until the pastry is cooked.
6. For the pistachio curd, combine the pistachio powder and sugar together. Add the orange blossom water. Spread the curd over the pie.
7. For the mhallabieh , heat the milk with the sugar. Combine the starch with 60g of water in a small bowl. When the milk starts simmering, add the starch mix and thicken over low heat.
8. Set aside and add the mashed meskeh and the orange blossom water. Pour the mixture in a circle mould and cool in the fridge.
9. Unmould the cooled mhallabieh over the pastry dough. Add the raspberries around the mhallabieh and sprinkle with pistachio powder. Place in the refrigerator for 30 minutes and serve.