SALMON WITH LEEK AND WILD RICE STUFFING
MAGGI RECIPE COOKED BY JOELLE ROUMOUZ GEBRAEL
Serves 6 | Prep/cooking 2 hrs 10 mins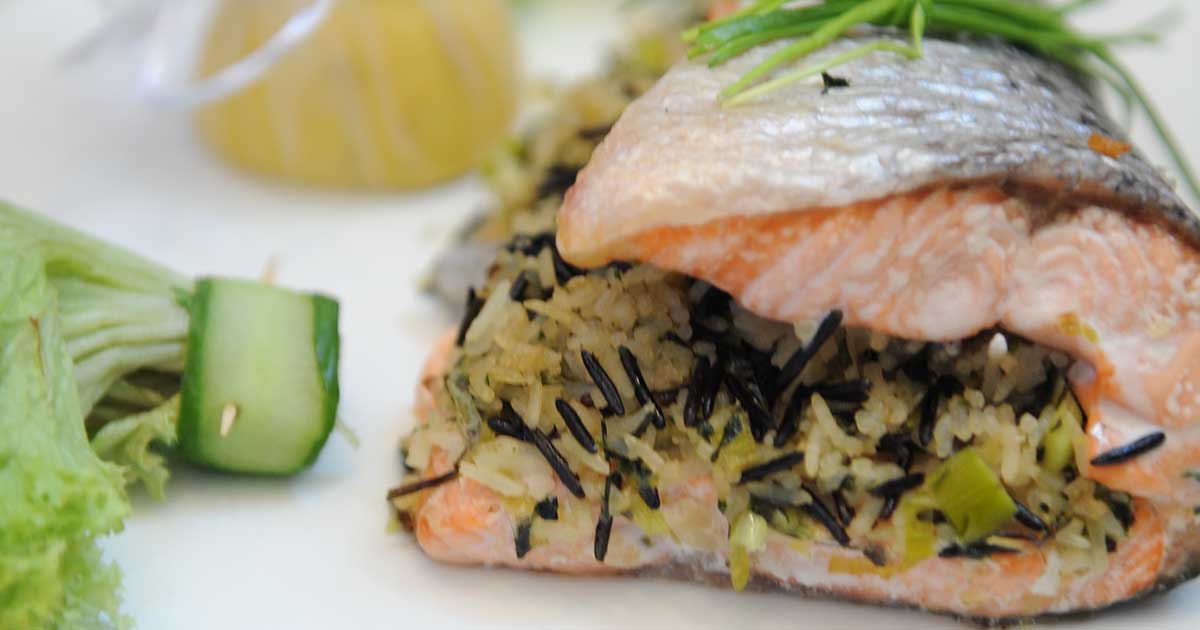 1 tbsp vegetable oil
150g wild rice
500 ml hot water
2 cubes MAGGI® Chicken Bouillon
2 tbsp butter
200g chopped leeks
3 tbsp chopped parsley
3 tbsp chopped chives
1 tbsp fresh tarragon
1 tbsp lemon zest
1½ kg center cut salmon fillet
2 tbsp extra virgin olive oil
150g thickly sliced onion rings
2 tbsp lemon juice
1. Heat the vegetable oil in a deep saucepan, add the wild rice, water and MAGGI® chicken bouillon, cover and simmer on medium heat until rice is ¾ cooked.
2. In a frying pan melt the butter, add the leeks and sauté until soft. Then add the parsley, chives, tarragon, lemon zest and ¾ cooked rice to the pan and gently stir.
3. Stuff the cavity of the fish with the filling and tie shut using kitchen string.
4. Place onion rings on the bottom of a deep ovenproof dish, drizzle with the olive oil and place fish over the onions so the fish does not directly touch the pan.
5. Bake the fish in a preheated oven for 40 minutes at 200°C.
6. Squeeze lemon juice over and serve.