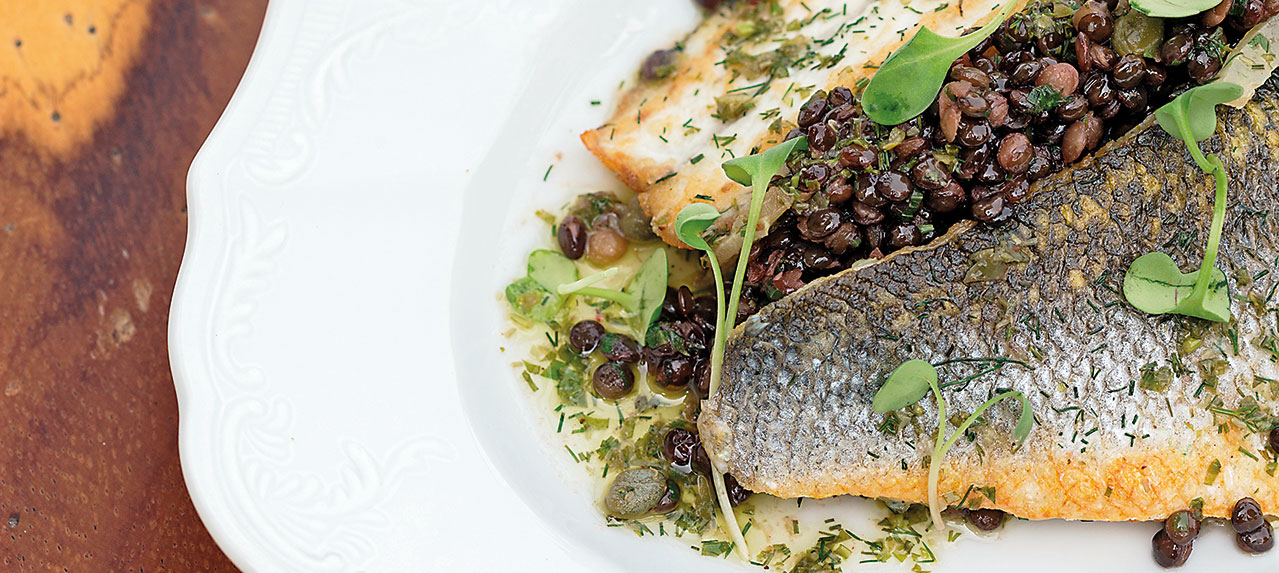 8 pieces of sea bass fillet
1g table salt & white pepper
20g fresh lemon juice
20g olive oil
2g fresh dill
Lentils de Puy Salad
400g boiled lentils de puy
60g olive oil
120g glazed fennel
6g fresh tarragon, finely chopped
30g capers
2g table salt & white pepper
25g fresh lemon juice
Capers, tomato and lemon sauce
20g fresh capers
30g fresh tomato juice
30g lemon juice
60g olive oil
8g chopped dill
2g salt & white pepper
1. Trim each sea bass fillet so they are the same shape, then score the skin, cutting slightly into the flesh. Season the fish with a little salt and pepper just before cooking.
2. Heat the frying pan until very hot, and then add 2 tbsp oil.
3. Lay the fish fillets in the pan, skin-side down. As soon as it goes in, press each fillet down with your fingers or a fish slice to stop it from curling up.
4. Reduce the heat to medium, then leave the fish to cook for 3-4 mins, undisturbed, until you can see that the flesh has cooked two-thirds of the way up and the skin is crisp and brown.
5. Flip the fillets over, and then fry on the flesh side for about 2 mins until just done, basting the skin with the oil in the pan as it cooks.
6. Leave to rest on a warm plate, skin-side up, and baste with the hot oil and juices from the pan.
7. Drizzle the fillets with lemon juice and fresh dill.
For the Lentils de puy salad
Cook the lentil in hot boiling water with a little bit of salt. While the lentils are cooking, toss the fennel in 1 tsp of olive oil; season with salt and pepper and lemon until glazed. Mix the olive oil, fresh lemon juice, fresh tarragon, capers, salt and pepper together. When the lentils are cooked, drain and mix them with the dressing.
For the Capers, tomato and lemon sauce
Place the olive oil into a small saucepan set over medium heat. Finely chop the fresh capers. Add in the chopped dill, lemon juice, olive oil and capers. Cook until reduced, about 2 minutes. Stir in the dill and tomato juice.
Plating
Place the lentil de puy salad on the empty plate. Then place the sea bass fillets on top. Drizzle with the capers, tomato and lemon sauce. Sprinkle a little jeunes de pousses (microgreens).