SEA BASS WITH SPICED RICE SAYADIEH
Serves 6  | Preparation Time 90 mins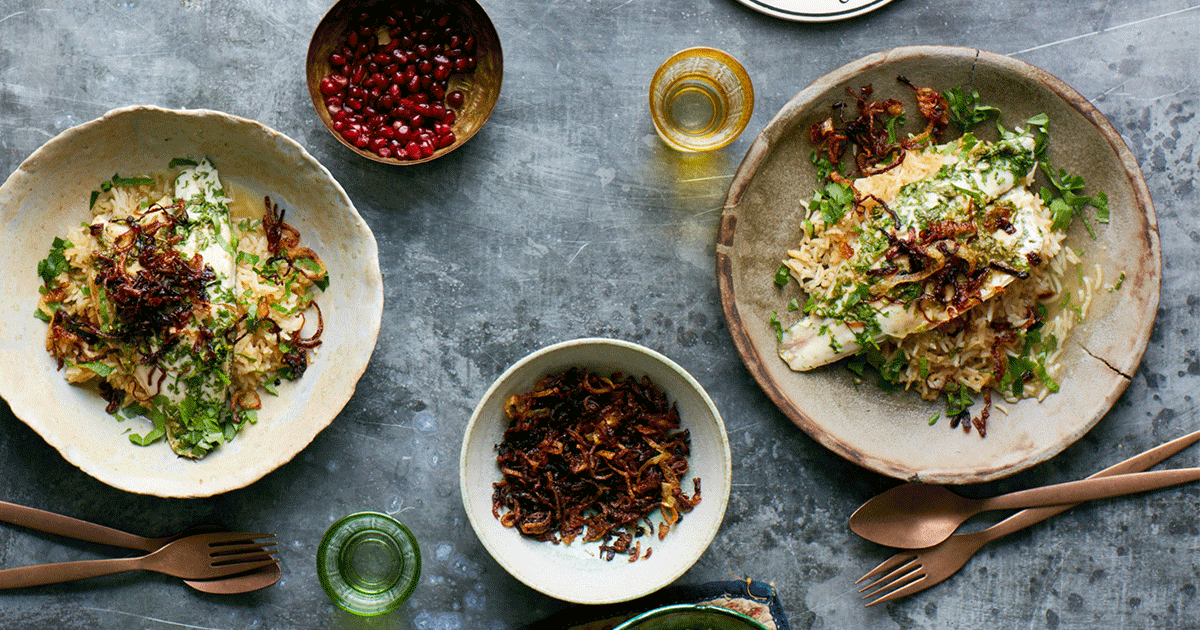 FOR THE SEA BASS
2 garlic cloves, crushed juice of 1 lemon
1 tsp cumin
Small bunch of coriander chopped
25 ml olive oil
½ tsp salt
Good pinch of black pepper
6 large sea bass fillets ask the fish monger for the bones
Small handful of chopped flat-leaf parsley and pomegranate seeds, to serve
FOR THE RICE
25 ml olive oil
2 onions, finely chopped
500 g basmati rice
1tsp cumin
Juice of 1 lemon
FOR THE STOCK & SAUCE
50 ml olive oil
2 inions, sliced
1 garlic clove, chopped
500 g fish bones
1 ½ – 2 l boiling water
1 lemon, chopped
1tsp cumin
1 tsp cornflour
Start by making the stock. Heat the oil in a large saucepan and sauté the onions until they turn a dark golden color. Scoop out a spoonful out a third) to use a garnish later.
Stir in the garlic and cook for 1 minute. Add the fish bones, the boiling water, the lemon and the cumin, and cover the pan with a lid. Bring to the boil and simmer, half-covered, for 1 hour.
Next marinate the sea bass. Put the garlic, lemon juice, cumin, coriander, oil, salt and pepper into a shallow. Stir everything together.
Add the fillets and toss to coat. Cover and chill until you're ready to cook them.
When the stock cooked, strain it into a bowl.
Now it's time to cook the rice. Heat the olive oil in a saucepan and sauté the finely chopped onions until golden. Stir the rice, the salt and cumin and cook for 1 minute. Pour 1 liter of stock into the pan and stir everything together.
Cook with a lid and bring into a simmer. Turn the heat down very low and cook for 12 minutes. Turn off the heat, squeeze over the juice of a lemon and leave the rice to steam.
While the rice is cooking, heat the grill until it's very hot. Take the fish fillets out of the marinade, lay them on baking sheet and grill until the flesh is opaque, 5-10 minutes.
Pour the rest of the stock into a clean saucepan and place over a low heat. Put the cornflower into a small bowl and stir in a couple of tablespoons of the cold stock. Stir this make a thick sauce, then pour it back into the stock to thicken it slightly.
When you're ready to serve, spoon the rice into a bowls, top with the dish, then spoon over the sauce and finish with a few of the reserved onions and sprinkling of parsley and pomegranate seeds.
MORE RECIPES BY TONY KITOUS