ST JACQUES SCALLOPS WITH TRUFFLES, CREAMY CELERY AND WILD ROCKET

Serves 4 | prep/cooking time 60 mins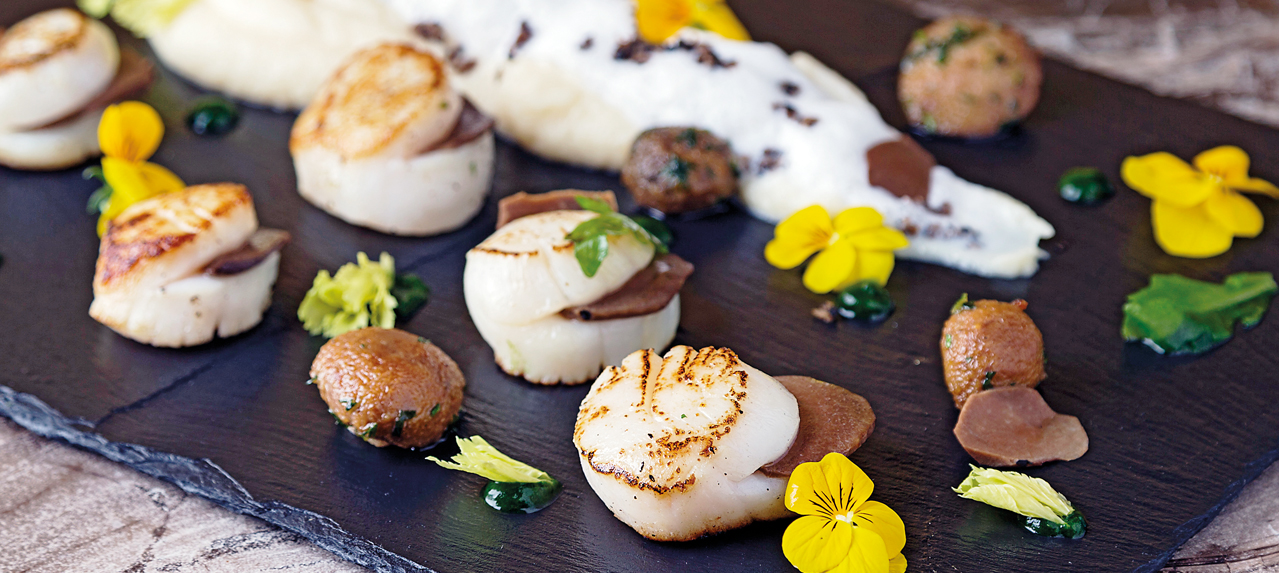 • 640g or 16 pcs Coquilles St Jacques
(French sea scallops)
• 60g black truffle
• 150g mushrooms Cep
• 500 ml veal jus
• 1 celery stalk
• ½ L milk
• 50g butter
• 100 ml cream
• 100 ml truffle oil
• 1 bunch wild rocket
• Edible flowers
• Salt and pepper
1. Clean shells and prepare the scallops.
2. Make an incision in the middle to put a thin slice of truffle. Refrigerate.
3. Peel the celery and put in a saucepan with the milk and water.
4. Once cooked, remove the milk and make mashed potatoes by adding butter and truffle oil.
Season and keep warm.
5. Cut the stems of mushrooms cepe. Cook with veal jus and cream. The sauce should remain liquid.
6. In a frying pan, cook the mushrooms with seasoning. Set aside.
7. Before serving, place the scallops in a very hot pan with olive oil for 2 minutes. Be careful not to overcook.
8. Place the celery purée on a plate and top with the scallops. Add the sauce and the mushroom heads. Decorate with edible flowers and wild rocket.