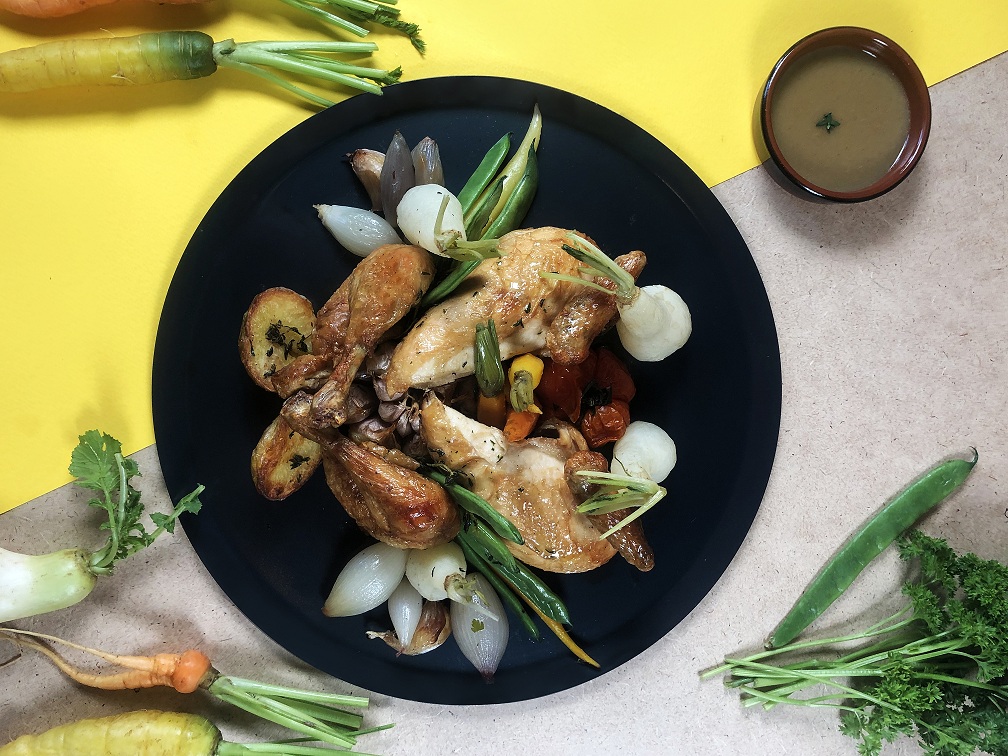 900g organic chicken
60g olive oil
Salt and white pepper to taste
1 bunch thyme
4 laurel leaves
750g chicken broth
10pcs long organic onions
10pcs small organic carrots
1 head garlic and cloves of garlic
6pcs organic pealed white radish
10pcs large organic green beans
5 small organic tomatoes
4 small organic potatoes
Salt and pepper the chicken from inside by adding thyme and laurel.
Oil it all together.
Place the chicken on a plate to be baked at 220°C for 30 minutes.
Add the garlic head and cloves which were cooked in advance in the poultry broth for 25 minutes.
Place the potatoes that were cooked in advance in water and thyme.
Cook at 180°C for 25 to 30 minutes.
In the meantime, cook the onions, carrots and rounded radishes for 15 minutes in the poultry broth, then add the green beans for 5 minutes to be cooked.
Take the two chicken breasts and the wings, place it next to the garlic head and the tomatoes, oil the chicken, salt it and cook it for 15 minutes in the oven at 180°C.
After cooking the vegetables on their own for 10 minutes, place the potatoes, the garlic and vegetables around the chicken pieces.
For the sauce, cook the shallots with butter then add white wine, mustard, flour and add a pinch of spices. Pour 400g of broth on the shallots. Mix and serve the hot sauce.
Chef's Tip
YOU CAN REPLACE THE THYME WITH FRESH TARRAGON LEAVES. SERVE WITH WHITE WINE – SANCERRE PASCAL JOLIVET.