Serves 4 | Preparation 3 mins | Marinating 180 mins | Cooking 180 mins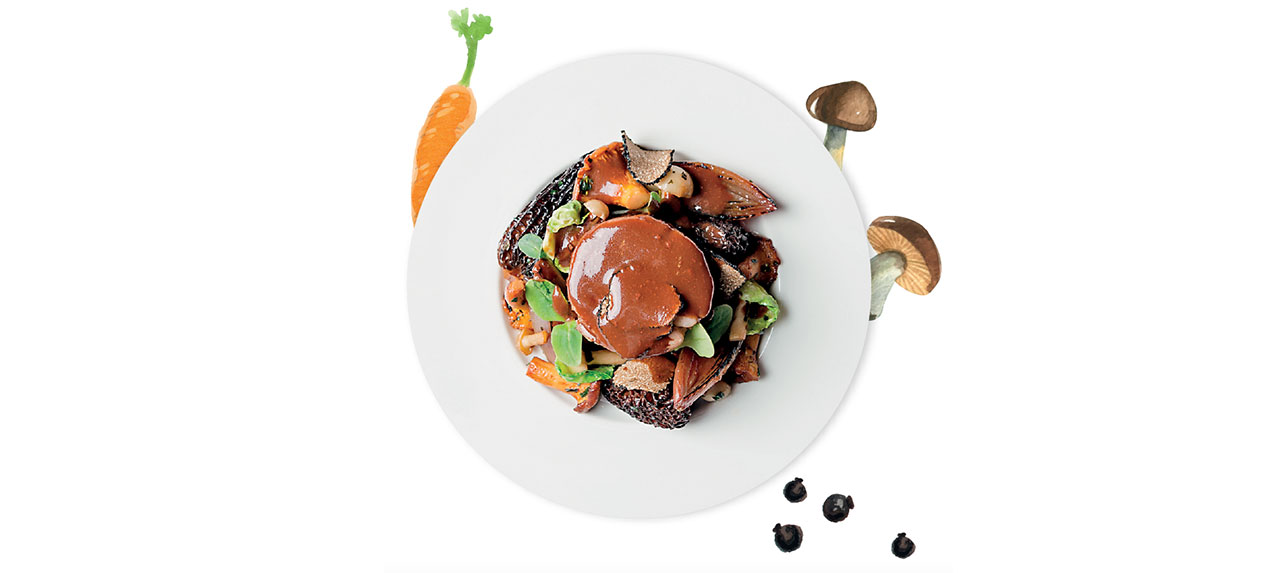 1 whole rabbit, front and back legs removed, saddle deboned
9 tbsp extra-virgin olive oil
2 small shallots (1 minced, 1 thinly sliced)
1 medium carrot (half minced, half thinly sliced crosswise)
1 rib celery (half minced, half thinly sliced crosswise)
1 tbsp crème fraiche
½ lob of foie gras
1 egg yolk
2 tbsp Caraibe chocolate
Maldon sea salt and freshly ground black pepper, to taste
1 tsp tomato paste
¼ cup white wine
4 black peppercorns
1 sprig fresh rosemary
1 sprig fresh thyme
4 small carrots, halved and steamed
4 radishes, quartered and steamed
8 roasted and peeled chestnuts, halved
1. Debone front and back legs, discarding any connective tissue; reserve bones. Cut remaining meat into ¼" cubes and chill in freezer for 30 minutes.
2. Meanwhile, heat 2 tbsp oil in a small saucepan over medium heat. Add minced shallots, carrots and celery and cook, stirring, until soft for 10 minutes. Remove from heat and set aside.
3. Transfer chilled meat to Thermomix and cook until 60°C. Pulse to grind meat; add minced shallot mixture along with the crème fraiche and egg yolk and process to form a smooth mousse. Season mousse with salt and pepper and set aside.
4. For the jus, heat oven to 425ºC. Set rabbit bones on a rimmed baking sheet and bake, turning once, until golden brown. Remove from oven and set aside.
5. In a saucepan, heat 2 tbsp oil over medium heat. Add sliced shallots, carrots, and celery. Cook while stirring for about 10 minutes until it becomes soft. Add wine and cook while stirring for about 2 minutes until evaporated. Add peppercorns, rosemary, thyme, and reserved rabbit bones. Add enough chicken stock to cover, bring to a simmer. Cook while skimming surface occasionally, for 1 ½ hours.
6. Set a fine strainer over a saucepan. Strain the broth, discarding solids. Heat broth in saucepan over medium heat and reduce by half. Season the taste with salt and few drops of Xeres vinegar, add the Caraibe chocolate to melt.
7. Season rabbit with salt and pepper.
8. Spoon mousse in a 2cm stripe down center of rabbit.
9. Put reserved boneless rabbit meat on top of the mousse.
10. Working from one long end, roll up the rabbit, to form a roll. Starting with the edge closest to the rabbit, around the rabbit to form one long roulade.
11. Transfer rabbit roulade to a long sheet of plastic wrap still attached to the roll; discard the parchment. Roll rabbit tightly in the plastic until several layers have accumulated. Cut plastic wrap and roll rabbit in three more layers of plastic wrap.
12. Using your hands, twist both ends of plastic wrap at the same time to form a tight roulade. Tie one end tightly with kitchen twine. Twist and tighten other end and tie it with kitchen twine. Tie another length of kitchen twine around the middle of the roulade.
13. Vacuum pack the roulade. Add the rabbit roulade and cook into a sous vide water bath for 4 hours on 62°C.
14. Transfer the roulade to a large bowl of ice water and chill for 10 minutes.
15. Drain and remove the plastic wrap.
16. Heat a pan and sear the Rabbit with olive oil, butter, garlic confit and thyme. Cook, turning occasionally, until all sides are brown.
17. Transfer rabbit to a plate and let rest.
18. Cut in round pieces of 150g.
19. Add the caramelized shallots confit, sautés chanterelle mushrooms and moriles, around the plate, blanched Brussels sprouts leafs and add the chocolate sauce.